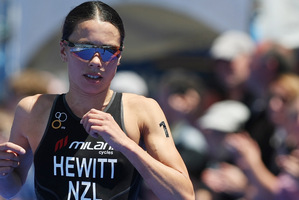 New Zealand triathlete Andrea Hewitt. Photo / Greg Bowker
New Zealand's Olympic gold rush could continue tonight when more of our top athletes compete at the Games.
Triathlete Andrea Hewitt and rowers Storm Uru, Peter Taylor and Emma Twigg have the best chance of adding to our tally after Kiwis won three gongs on day seven, two of which were gold.
New Zealand are twelfth on the medal table and, if all goes well tonight, we could extend our lead on our Tasman rivals who are at 19.
The women's triathlon begins at 8pm and most Kiwis will be glued in front of the TV screen. Apart from Hewitt, the event features New Zealanders Kate McIlroy and Nicky Samuels, as the number one ranked triathlete in the world following an extremely strong season.
But it won't be easy for our girls as Britain's Helen Jenkins and Australia's Emma Moffatt are also strong contenders for gold on London's Hyde Park course.
Hewitt, 30, has spent the past six weeks out of competition, getting ready for tonight's race.
"I've prepared a lot more for this one," she said.
The NZ rowing team has cleaned up on the water and we can expect more medals tonight on the final day at Eaton Dorney.
Storm Uru and Peter Taylor race in the lightweight double sculls final at 11.10pm. The 2009 world champions posted the second fastest time in the semifinals, behind the British duo of Zac Purchase and Mark Hunter who are the current world champions.
Emma Twigg races at 11.30pm in the women's single sculls final. The two-time world championship bronze medallist faces a tough race against the likes of Czech Mirka Knapkova, Belarussian Ekaterina Karsten and Australian Kim Crow.
The men's coxless four and the women's lightweight double sculls also race in B finals from 9.30pm.
On the cycling track the women's pursuit team will need a strong outing tomorrow morning to have a shot at the medals which will be decided just before 5am.
They race in the first round against Belarus after 3am where they'll need a time in the top four to ride for the medals.
Kiwi Shane Archbold begins the ominium event - a multiple race in track cycling - while Eddie Dawkins takes part in the sprint heats.
In the sailing, Olivia Powrie and Jo Aleh will look to build on a strong first day in the women's 470 from 1.05am while several other New Zealand boats look to secure places in the medal race.
Then it's over to athletics and heptathlete Sarah Cowley returns to the Olympic Stadium for day two of her event but she's well off the pace, sitting in 30th out of 37 competitors.
The women's Black Sticks side also face a crucial match against the USA at 6am. With four teams tied at the top of group B, New Zealand can't afford to drop one of their remaining two games.
It's going to be a long night in front of the television and no doubt there will be a few frayed nerves as we watch our stars give their all.
- Herald online