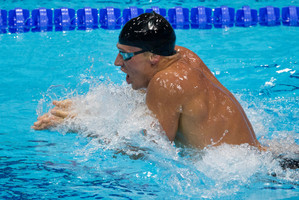 After each of his eight gold medal swims at the Beijing Olympic Games, Michael Phelps followed the same routine.
He would reach up to his mother Debbie, hand her the flowers he'd just received on the podium, give her a hug and whisper "seven more to go". Then "six more", then "five more" until his Beijing blitz was complete.
It won't be happening this time.
The big guy from Baltimore is chasing three medals in London. Already the athlete with the most gold medals in history, 14, he needs three more of any hue to eclipse Russian gymnast Larissa Latynina's alltime mark of 18.
His first chance came and went at the Aquatic centre yesterday morning (NZT) in the 400m individual medley. Instead Phelps found himself getting Phelpsed.
He didn't even get on the podium, finishing fourth as his compatriot and mate Ryan Lochte blitzed the field in a fabulous display.
Lochte chewed up the field to win in 4min 05.18 seconds, albeit almost one and a half seconds outside Phelps' world record from Beijing. Brazilian Thiago Pereira took second and Japan's 17-year-old Kosuke Hagino third. Phelps was 4.4.10s behind Lochte.
The race roared of a changing of the guard. Lochte, at 27 the same age as Phelps, looks the swimmer with the burning ambition to match Phelps' wondrous 100 winning per cent achievement in Beijing, to at least make it clear these will his Games.
Phelps took time away post-Beijing. There was the highly publicised incident when he was photographed with a marijuana bong, and the suggestion that the competitive edge had faded.
Yesterday, having just squeezed into the field as eighth fastest qualifier, Phelps chomped four seconds off his heat time but still wasn't even close to Lochte, an immensely popular figure, who lives in Florida and has a pet Doberman named Carter.
This is not to say Phelps is toast in London. He remains faster than most swimmers. Just not as fast as he has been, and certainly not, on the evidence of their first clash, as quick as Lochte. Lochte hinted that he knew he had the beating of Phelps. After all, he'd beaten Phelps in this event at the American Olympic trials, and in both their clashes at last year's world championships in Shanghai.
He's also won four Olympic golds so he's no overnight sensation by any stretch.
They next square off in the 200m IM, with the final early Friday (NZT), which Phelps won at the US trials.
After Beijing, Phelps vowed he'd never contest the gruelling 400IM again, which comprises 100m of each of the four strokes. Somewhere along the line he changed his mind. He probably regrets it this morning.
He had the chance to become the first swimmer to win three successive Olympic titles in the discipline.
For eight years until 2010 Phelps beat Lochte every time they met, 17 races on the trot.
Phelps was the unchallenged king of the pool. Yesterday the king was dethroned. He has six events left and could certainly still get his three medals. But the dynamic has irrevocably changed.