Black Stick Simon Child could be one of the stars of the Games, writes Michael Brown.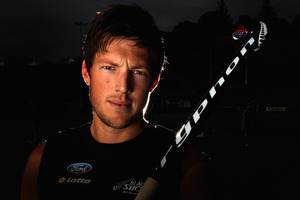 Simon Child once scored 11 goals in a hockey international.
That's the same Simon Child who made his debut for New Zealand at 16, who has since played 167 tests and scored 93 goals and who was playing in the world's best professional league at 18.
At 24, Child is still one of the youngest in the Black Sticks but also one of the most experienced. London, could be his time.
"I think he could potentially be one of the stars of the Olympic Games for New Zealand, not just hockey," coach Shane McLeod said. "He has the potential to set London alight if he has one of those tournaments that he can do."
If he does, it's possible New Zealand could medal. Ranked seventh in the world, they sit below some of the powerhouses of world hockey like Australia, the Netherlands and Germany but this New Zealand side seem to be peaking at the right time.
They finished fourth at last year's Champions Trophy played in Auckland and this month won the Azlan Shah Trophy in Malaysia.
The top three nations weren't there, but the Black Sticks dispatched everyone else to win the tournament for the first time in its 21-year history.
They have depth right across the park from goalkeeper Kyle Pontifex to defender Phil Burrows and skipper Dean Couzins but Ryan Archibald and Child stand out.
For Archibald, who has been New Zealand's best player for more than a decade, this will be his last Olympics. For Child, it should announce his arrival.
He played in Beijing but was hampered by a broken finger and, like a lot of competitors at their first Olympics, was a little overawed.
"It's always important to have that kind of experience," he says. "You never totally get a grasp of how amazing a thing like the Olympics is until you get into the village or walk into the stadium. Having been there in Beijing, it was fantastic. I was playing with a broken finger so I wasn't anywhere near my best. I feel like I have a bit of redemption this time around.
"We are quietly confident. I think we are always the dark horses in a competition like this. We are always ranked about sixth or seventh with the ability to knock off the teams above us.
"The Champions Trophy was a good opportunity for us to show the New Zealand public we can do it and we are good enough to get in the top four. But the Olympics are an incredibly tough competition and you have to be on top of your game every game and get some luck on top of that."
New Zealand open their Olympic campaign against Korea, before taking on India, the Netherlands, Belgium and Germany and need to finish in the top two in their pool to progress to the semifinals.
It's a tall order but not impossible and they will need to start well and build momentum. They will also need to take their chances. That's where the likes of Nick Wilson and Hugo Inglis come in, but particularly Child.
"There's quite a lot of pressure on Simon," McLeod said. "He's quite unorthodox in the way he plays. He's also quite charismatic as a person. He gets quite a following in Holland and even within New Zealand. When you have a package like that, you get watched a lot. He will get critiqued a lot. When he plays well, he stands out. If he doesn't, it also stands out.
"I feel a little for Simon. He needs to be managed well, has to come to grips with the expectation and, to be fair, his expectation on himself is as high as anyone else. He has certainly targeted London as an event he's very keen to play well at."