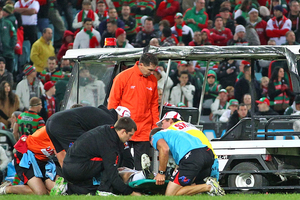 Justis Kamu looks at the standout issues in the NRL from the past week.
1. Banning collision will dilute league
Souths fullback Greg Inglis' shoulder charge on the Dragons' Dean Young was a monster hit. Inglis' charge didn't connect correctly yet it emphasised why rugby league isn't a game of tackles but one of collisions. For fans and players it's an aspect of the game that we love.
Players thrive on it and fans watch for these moments of dynamism. The shoulder charge makes league a real gladiator sport - no helmets, no shoulder pads, and no arms in tackles means it's like a car crash of human bodies.
The impact can be fatal and it's a high risk act to execute however any rugby league player understands that the difference between success and injury is a matter of centimetres or seconds. That's what makes the game brutally beautiful.
There have been over 90,000 tackles in the 2012 NRL season with just nine people charged with shoulder charges.That's one player banned for the hit every 10,000 tackles. There have been calls to eradicate the tackle from the sport altogether yet this is a stretch too far.
Gordan Tallis said it best earlier this week, 'C'mon tree huggers, get out of the game.' Inglis and any other player who makes contact with the head should be suspended accordingly.
However the last thing fans and players want is for the game to be policed like rugby union. Where over-zealous whistle blowers hand out dubious yellow and red cards for tackles an inch over horizontal or players failing to fully wrap their arms in a hard hit. Changing that rule would water down the exhilaration and toughness of the sport.
2. Rugby Union watch out
Owen Glenn and Eric Watson's announced last week plans to make the New Zealand Warriors the best single sporting franchise in Australasia. The owners, board and management should be commended for their vision and creativity to ensuring that the great game is to taken new heights in this country.
Let's be clear, the Warriors aren't going to try and take over the All Blacks status as top dog of New Zealand sports teams. But the NRL club is situated in the right market to damage rugby union's sitting as the number one game in Auckland and in the northern regions.
Auckland Rugby Union (ARU) has lost its untouchable aura that it once held before the new millennium. The blue and white hoops jersey of the province no longer inspires youngsters like it did in the glory days of 80s and 90s.
Union is strong at grassroots and secondary school level but it's in the professional arena where the league is making inroads. The two-time winning Toyota Cup side is proving to be a key attraction for young footballers who want to test themselves in a professional environment which mimics the playing schedule and set-up of the NRL side.
Whilst the Warriors haven't won a title since its inception in 1995, their brand of football is exciting and is backed by a large passionate fan base around New Zealand and in Australia.
No other club team in professional sport in this part of the world can play in Brisbane, Gold Coast or Sydney and have home crowd advantage.
The Auckland based club have plenty of positives in its favour to take the game to the next level with a Warriors Charitable trust, Elite Academy, improved membership offers and a Warriors Shop amongst a few initiatives that the club have in the pipeline.
If the club can get its act together on the field (where it counts the most) and win a title or two over the next five to ten years. Rugby union's stranglehold on the Auckland sports scene is under serious threat.
3. Kearney goes out on a class note
It was a bitter sweet end to Stephen Kearney's coaching stint at the Parramatta Eels with his side earning a upset victory over Melbourne Storm. The Kearney and Eels marriage has been a rocky one with the New Zealander failing to see out his second after a dismal 4-14 win-loss record in 2012.
The Eels struggled under his tutelage as he tried to implement a disciplined structure to the Parramatta club after learning his coaching trade under the Storm's Craig Bellamy. However the Eels didn't have the playing personnel to carry out his plans with marquee signing Chris Sandow struggling from the start of his Parramatta stay to live up to his coach's playing ideals.
There are many negatives that could be emphasised during his time at the club however despite the doom and gloom there were a few positives to note:
Ken Sio's emergence as a young winger with the ability to finish off tries scoring opportunities.
Reni Maitua's comeback in the NRL would not have been possible without Kearney and the 30 year old has been one of the club's most consistent this season.
Mitchell Allgood's development as a prop with considerable talent who will push for higher honours.
And in Junior Paulo the former Panther has filled a ball playing/link roll that has been missing in 'Parra' since Feleti Mateo was playing for his hometown club.
4. Bennett wins both on and off the field
Newcastle Knights coach Wayne Bennett returned to the Hunter Region with two NRL competition points and a host of happy campers.
On Friday night, the eve of his side's 24-19 victory over the Warriors at Mt Smart Stadium the former Australia, Broncos, Dragons and Queensland coach was the guest speaker at a fundraiser for Edmund Rice Camps at the Otahuhu Rugby League club.
The fundraiser helped to raise money and awareness for the work being carried out by the Edmund Rice Camps in helping under-privileged children build their self-esteem through interaction with young adult leaders.
Bennett, who appeared for free, entertained an audience of 100 league fans at the ORL where he spoke candidly about his experiences as coach in the NRL, State of Origin and adviser for the victorious Kiwis 2008 World Cup campaign.
A humble, unassuming yet revered figure in the game, Bennett kept the crowd amused for an hour with his tales about Wendall Sailor's love for bling and Sam Backo's league intelligence the pick of the bunch.
The seven time NRL title winner also answered questions from the floor about his time at the Broncos, current role as coach of the Knights, Stephen Kearney's Eels sacking and Jeremy Smith's influence in the Kiwis pack.
Congratulations to Edmund Rice Camps for a successful night and Bennett for taking out the time to share his love for rugby league.
5. Your comments
Pou Sorry bro the Tamou/Hurrell scenario is different. Tamou signed a letter of intent to play for the Kiwis, Hurrell did not do the same for Tonga. Hurrell played union in Tonga. Although I love to see him playing for the Warriors I am sad he has had to turn his back on his homeland to play for the Kiwis. We should be doing all we can to not emulate the Aussies.
- First of all I'm not your bro. Secondly a letter of intention is not a contract so in effect it's not worth the paper it's written on. You don't pick a player to wear the black jumper because he has an 'intention' to play; one is picked because he is a Kiwi which K Hurrell obviously is not. At the heart of the issue with J Tamou and S Kasiano is that they are not Australians or New South Welshman, or Queenslanders but they are Kiwis who are born here. Thirdly the NZRL are not an innocent party in the eligibility debacle.
Steve What have the Tongan Rugby League put into Hurrell? Nothing! He was a Rugby player! Do you even watch sport?
- The NZRL haven't put a cent into K Hurrell's development. He was born in Tonga that is enough for him to fall within TRL's catchment. Initially it was Auckland Grammar for union, before Eric Watson and Owen Glenn started putting money and resources into his progression as a league player. The Warriors are a separate legal entity from the NZRL.
Teke Hunter I would be grateful to have Konrad play for us, but I would like to see more Poly's representing Samoa, Fiji and Tonga. Why? For the international game to improve. The fact that some kiwi's who are born and raised NZ would rather play for Queensland or NSW proves my case
In order for the international game to take flight, there needs to be more Polynesians especially those born in the Pacific Islands representing Fiji, Samoa and Tonga. Union's strength is its international game. League is moving in the opposite and wrong direction, where state is held above country with the Origin series slowly becoming the pinnacle of the sport.
6. Team of the week - Round 20
1. Fullback - William Zillman (Titans)
2. Wing - Sam Perrett (Bulldogs)
3. Centre - Michael Jennings (Panthers)
4. Centre - Jarrod Crocker (Raiders)
5. Wing - Nathan Merritt (Rabbitohs)
6. Five-eighth - John Sutton (Rabbitohs)
7. Halfback - Tyrone Roberts (Knights)
8. Prop - Aidan Tolman (Bulldogs)
9. Hooker - Nathan Peats (Rabbitohs)
10. Prop - Dave Shillington (Raiders)
11. Secondrow - Josh Papali'I (Raiders)
12. Secondrow - Gavin Cooper (Cowboys)
13. Lock - Shaun Fensom (Raiders)
Coach: Stephen Kearney (Eels)