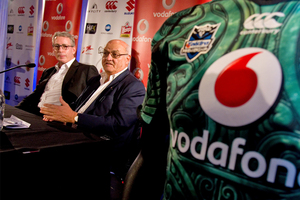 Warriors owners Eric Watson and Owen Glenn today announced they expect to invest "whatever it takes'' over the next five years in initiatives designed to take the club and rugby league to "levels never seen before''.
Watson and Glenn were locked in strategy talks in Auckland last weekend with board members, management and coaching staff mapping out the club's future.
When the owners announced their 50-50 joint venture on the eve of the 2012 NRL season in March, they pledged to not only invest a multi-million dollar sum into rugby league but also voiced their goal to make the Warriors the most successful club in the NRL.
Today Watson reiterated that but added they didn't want to stop there.
"We want this club to become the best single sporting franchise in Australasia, taking it to levels never seen before in this part of the world,'' he said.
Following the weekend's board meeting, chairman Bill Wavish said they have reached agreement on a number of key decisions.
"These initiatives we are announcing today will pave the way for an era of unprecedented growth in the club's on-field success, profile and community presence," he said.
These include the formation of a Warriors Charitable Trust, acommitment to form a Warriors Elite Academy, the upgrading of training, sports science, medical, talent identification, IT and other team support facilities and a Warriors Championship for Auckland secondary schools First XIIIs and significant involvement in grass roots rugby league.
Watson says the potential to grow the club at all levels through the initiatives was unlimited.
"This is a conscious effort to significantly raise the bar for the Vodafone Warriors as a club and as a brand," he said.
"The Warriors Elite Academy, the Warriors Charitable Trust, the facilities and training upgrades and the other initiatives have allowed Owen and me to give tangible support to the Vodafone Warriors."
- APNZ