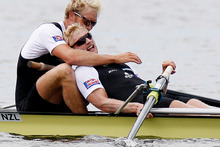 Unbeaten pair Hamish Bond and Eric Murray know that the French and Canadian crews are going to start very fast. They also know they have to have the courage of their convictions not to waste energy chasing them.
Murray said he expected their main rivals would fly out of the blocks during the Olympic regatta, but whether they had the strength to maintain it over 2kms was another matter. That ability to finish a race as strongly as they start has been a hallmark of Bond and Murray's unbroken success.
"There are some crews that start really fast, they just can't maintain the pace," Murray said. "It's a 2000m race and we just want to make sure we get across the finish line first. There's so many other factors that come into it, like the wind and the weather, but for us we just go as fast as we can. We've been training to go as fast as possible for 2000m. That's what we're going out to achieve."
It's a simple enough philosophy, but one that has seen off allcomers since they started as a pair in 2009. Part of coach Richard Tonks' strength is the ability to strip out all the extraneous stuff and just concentrate on the things that can help make a boat go faster.
"He is quite a reclusive person and I guess he's not really into the big hurrahs and hype," Murray said.
"You watch on TV and see Graham Henry go into the changing rooms and he's standing there telling the boys what to do and this and that.
"We're standing there on the docks and Richard's there holding our oars. We put the oars in the gate and we're sitting there waiting. He looks at us and we look at him. We look at him, still waiting... he says, 'Oh well, just go out on the water and do what you've always done.'
"That's pretty much our pep talk from Richard. We've done the preparation so there's no point standing there saying 'let's do this, let's do that, let's do this'. We've done it before so we go out and basically do it all again."
The four-time world champions - one in the four, three as a pair - are putting the finishing touches on a four-year campaign they hope will end with gold on Dorney Lake.
Looked relaxed as a pair with the weight of overwhelming favouritism could be, Murray said there wasn't a lot more they could do now in terms of preparation.
"We've got to fine-tune the last few rows we've got. S***, we might only have a dozen more rows and it's all over. That's where we're at."
By Dylan Cleaver

Email

Dylan