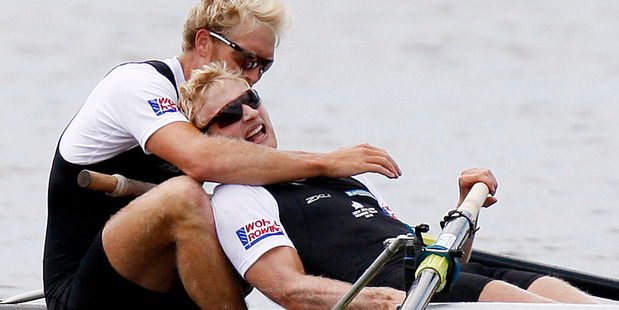 Andrew Alderson runs through the New Zealand Olympic team and picks out our best medal hopes and also the long shots that could surprise at London.
THE FIRST XV

GOLD
Rowing - men's pair - Eric Murray/Hamish Bond
No New Zealanders have a better shot at gold. Bond the racing head; Murray the uncompromising heart. Remain unbeaten since forming as a pair in 2009 under coach Dick Tonks.
Athletics - women's shot put - Valerie Adams
Unbeaten in a major outdoor competition since 2007 but will need her big game temperament with Belarussian rival Nadzeya Ostapchuk throwing 15cm further than Adams' best (21.24m) on July 6.
Rowing - men's single sculls - Mahe Drysdale
At 33 it's probably the five-time world champion's last shot at Olympic glory. Has the pedigree; won the world championships by little more than a bow ball on the Eton course in 2006.
SILVER
Kayaking - women's K1 200 - Lisa Carrington
Resembled a human turbine taking last year's world championship in this new Olympic discipline. Beaten by 0.096s in May World Cup by three-time Olympic champion Natasa Douchev-Janics of Hungary.
Equestrian - three-day event - Andrew Nicholson
Has meticulously prepared with Nereo for his seventh Games; even employing a fitness consultant to install a rowing machine at his Wiltshire home. Turns 51 the day after the showjumping.
Rowing - women's pair - Juliette Haigh/Rebecca Scown
Build-up has included: no dishes, comfy cloud-like beds and omnibuses of Downton Abbey. Now the world champions just have to haul in the Brits who have edged them in recent duels.
Rowing - men's lightweight double sculls - Peter Taylor/Storm Uru
Stand to create history as New Zealand's first medallists in 16 years of Olympic lightweight rowing. Would make their embargo on chocolate, cheese and beer worthwhile while training in Belgium.
Triathlon - women - Andrea Hewitt
A run-friendly Hyde Park course stands between Hewitt and New Zealand's first women's triathlon medal. Key competitor is Brit Helen Jenkins who won last year's practice event on the flat.
BRONZE
Cycling - women's road time trial - Linda Villumsen
The 29km loop from Hampton Court Palace could yield New Zealand's first road cycling medal. Villumsen has the CV with world championship podium finishes each of the last three years.
Rowing - men's double sculls - Nathan Cohen/Joseph Sullivan
A conservative pick but this season the two-time world champions came last in the B final at Lucerne before taking a silver medal in Munich. Need to use "Evers-Swindells-2008" as their watch words.
Rowing - women's lightweight double sculls - Louise Ayling/Julia Edward
Rare bolters in Olympic year with silver and gold at World Cups. Making rivals jealous as natural lightweights (i.e. they don't have to don hats and coats to peel off last-minute grams to race).
Sailing - women's 470 - Jo Aleh/Olivia (Polly) Powrie
Team Jolly have won the last two Sail for Gold regattas at the Olympic venue navigating "Muppet". Fourth at world championships in May, despite Aleh face planting off her bike.
Equestrian - three-day event - team
Took bronze at World Games in October 2010 at Kentucky. The UK bases of riders means traditional logistical problems like transporting horses by air and quarantine are non-existent.
Cycling - men's omnium - Shane Archbold
World championship silver in 2011 proved his pedigree but came fifth this year after slipping to 16th in points race. The flying mullet could be one of the memorable images of the Games.
Cycling - men's team pursuit - Sam Bewley, Aaron Gate, Westley Gough, Marc Ryan, Jesse Sergent
Third at April's world championships but more than 4s behind Britain and Australia. Olympic bronze expected after doing the same at Beijing; pushing up the podium is a trickier proposition.
WILDCARDS
Equestrian - three-day event - Mark Todd
The rider of the 20th century competing at 56? The story's too good to snuff out. Has been suggested he could win big events on a skateboard with his skills.
Equestrian - three-day event - Caroline Powell
Has spent her working life rising through the British eventing ranks, culminating in 2010 Burghley win on 19-year-old Olympic horse Lenamore. Powell riding this one for her late Mum Ailsa.
Rowing - women's single sculls - Emma Twigg
Bronze medals at the last two world championships but faces formidable eastern European contingent.
Cycling - women's team pursuit - Alison Shanks, Lauren Ellis, Jaime Nielsen
Fourth at April's world championships but have made the podium three-times before. Debut event for women at the Games.
Sailing - men's 49er - Peter Burling/Blair Tuke
World championship silver medallists who are methodically trying to end New Zealand's 20-year keelboat medal drought.
Sailing - men's windsurfing - JP Tobin
Tobin has trained with incumbent world champion Dorian van Rijsselberge. Has even recovered at the Dutchman's home on the island of Texel, chowing on an unlimited supply of dairy produce.
Athletics - men's 1500m - Nick Willis
Plans campaigns like military manoeuvres and has a Beijing silver to prove it. The Willis war room capability can't be underestimated, even against the lung power of east Africa.
Athletics - men's javelin - Stuart Farquhar
His April throw of 86.31m in Hiroshima remains the third best in the world this year.
Athletics - women's marathon - Kim Smith
Smith's elevation into the top marathon-running ranks has hardly been trumpeted since moving from the track in late 2009. Has finished fifth twice in New York (2010, 2011) and eighth at London (2010).
Sailing - men's Star - Hamish Pepper/Jim Turner
A late but experienced combination including new "Kiwi Jim". Immediate impact of seventh at the world championships earned a Games spot.
Cycling - men's Keirin - Simon van Velthooven
A technical infraction for "crowding" saw him relegated from third to sixth at the world championships but his sprinting prowess is noted. New Zealand hasn't won a sprint medal at an Olympics.
Triathlon - men - Bevan Docherty, Kris Gemmell
Veteran campaigners probably on their last Olympic mission. Docherty needs a gold for the set; Gemmell could crown a career of dedication.
Rowing - women's double sculls - Fiona Paterson/Anna Reymer
Apparent injury problems threatening a repeat of last year's world championship bronze. Fifth in both 2012 World Cups.
Cycling - BMX - Sarah Walker/Marc Willers
The lolly scramble from the 8m drop start makes predictions awkward. Walker is a past world champion recovering from a dislocated shoulder; Willers has graced the world championship podium.
Hockey - women - team
Secured the country's first medal (bronze) at the Champions Trophy last year in Amsterdam. Form has slipped a bit since. Ranked sixth in the world.
Hockey - men - team
Won the Azlan Shah Cup in Malaysia last month. Last year beat world No 1 Australia for the first time since 1999. Ranked seventh in the world.