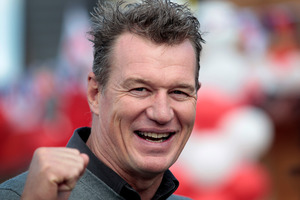 Advice that John Kirwan would coach the Blues next year came a decade after his last involvement with the ailing franchise.
His return adds to a dossier which shows previous appointments as manager then assistant coach of the Blues before he went overseas to develop his coaching talents with Italy and Japan.
The question for those interested enough to delve into the multi-layered problems at the Blues is whether Kirwan's return will be a panacea or will end in similar fashion to his predecessor, Pat Lam.
Neither Blues chairman Gary Whetton nor Kirwan was about to dump on the franchise or the current coaching regime at yesterday's announcement that Kirwan would take the side for the next two years.
However, Whetton promised that the new coach would "get the freedom to pick the team and the supporting staff that he wants".
The coaching decision, we were told, was unanimous and came after interviews completed by a panel of Blues chief executive Andy Dalton, Whetton, NZRU members Graham Mourie, Don Tricker and former All Black coach Graham Henry. JK was back and reckoned he had not been as excited about rugby since he made the Auckland team in the 1980s.
"To come back home is a dream come true, to come back as coach of the Blues is a real honour and I am just ecstatic about the opportunity," he said.
Taking on the Blues was some task but that was part of the attraction.
He had seen some of the talent in the region at an under-18 tournament last week and the Blues region was the biggest catchment area in the country and "that's what really excites me".
No way was the Blues coaching job a poisoned chalice, it was a fantastic opportunity but it required an enormous amount of hard work and honesty.
When Whetton was quizzed on some of the administrative issues which have dogged the franchise, he sidestepped the inquiry and said Kirwan would get the staff he wanted to take into the next two campaigns.
The Blues were always under review and this season proved they needed to be at their best in all areas. The chairman had no issues with Dalton's leadership and direction of the franchise.
It was tough to boil down the issues to individuals but Lam had been head coach in a disappointing year and he was the "fall guy" for those problems.
The franchise had to make a decision on the best coach for the future.
Kirwan had talked through his ideas about coaching assistants and management structures for the Blues.
He would not divulge their identities, although former All Black coaching sidekick Mick Byrne is favoured as an assistant, and there have also been noises about former All Black loosie Kevin Schuler.
Kirwan wanted to be in charge of attack and would like specialist forward, skills and back coaches to work with him and an experienced manager.
The priority was to get the Blues back into the winners' circle.
"I come from a winning culture but that is a culture and what is that culture? For me, honesty, hard work and picking the great players - I think they are out there," Kirwan said.
The 47-year-old said he was passionate about rugby in the region, discovering talented players and moulding them into a cohesive and productive Blues squad.
Some of the talent was 18 months away from being ready but he hoped progress would be seen and delivered next year. He had to stamp his personality on the team.
There were players under contract and he and advisers would sift through them and others on show in the ITM Cup and elsewhere.
Kirwan will hold meetings with franchise officials this week before returning to his base in Italy then returning to Auckland for the August 13 official start to his contract.
SIR JOHN KIRWAN
Age: 47
Playing career: 142 games for Auckland (1983-94) and 96 for the All Blacks, including 63 tests (1984-94). He also played for Italian side Treviso (1986-90) and NEC Green Rockets in Japan (1997-99) as well as a two-year stint in rugby league with the Warriors (1995-96). Kirwan scored 67 tries for the All Blacks and 199 in first-class rugby. He was denied 200 only because his swansong match for New Zealand Barbarians was not granted official status.
Coaching career: Blues assistant coach (2001), Italy coach (2002-05), Japan coach (2007-2011), UK Barbarians coach (2012). Japan won 31 of their 55 games under Kirwan's tenure for a 55.18 per cent winning record.