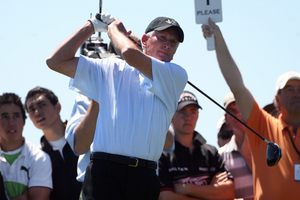 Seventy-seven-year-old Sir Bob Charles added another extraordinary chapter to his golfing legend overnight, shooting 10 strokes below his age on the European Senior Tour.
Charles' first round 66 smashed his own tour record of five strokes less than his age and moved him to a share of third place at the Bad Ragaz PGA Seniors Open in Switzerland.
The day started with a terrible drive into the left-hand rough which led to a bogey five, but Charles then proceeded to put on a golfing master class.
Charles, the first left-hander and first New Zealander to win a major, rolled back the years and rolled home the putts to claim five birdies and join the six-way tie for third place, two strokes behind leader David J Russell.
"That was one of those dream rounds," Charles said. "I have just bettered my age by 10 shots - I have never got anywhere near that figure before.
It's quite remarkable really.
"I have had some great days in my career and this is one of them. I felt young again. My putting certainly reminded of the days of my youth. I hit a lot of good shots and never missed any short putts and that was the secret really. I made two really big 15-foot par putts to and they were crucial.
"I take a lot of satisfaction from today. These days that is the goal and today was, as I said, like a dream and one I will never forget."
Charles's career is already awash with unforgettable moments. His 1963 British Open triumph at Royal Lytham & St Annes was just one of almost 80 career titles around the world, earning him a knighthood in 1999.
He remains the oldest player to make the cut at a European Tour event after his 23rd-place finish in the 2007 New Zealand Open aged 71 years and 261 days.
Charles officially retired at the 2010 edition of the Bad Ragaz PGA Seniors Open but he returned this year due to his love for the Bad Ragaz area and the golf club.
He does not play too many rounds of golf these days, but he hits still hits 50-70 balls three times a week on a golf course near his home in Christchurch to keep in shape.
"I really didn't know what to expect today," he said. "I came back here because I love Bad Ragaz, I love Switzerland, and I love coming back here to this golf club because the welcome we receive is overwhelming.
"I retired because I wasn't competitive anymore and I always said that I didn't want to hang around if I couldn't compete. Unfortunately, when you get to my age, the golf shots get shorter and the golf courses get longer and that combination is just not compatible.
"But that's what made today so special. It felt great out there. Can I win the tournament? I would doubt it but you just never know if I can keep putting as well as I did today."
- APNZ