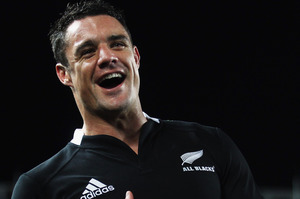 An American insurance company is reportedly in negotiations with the New Zealand Rugby Union to have their logo emblazoned on the All Blacks playing strip.
Jedi Thian, who runs the Alternative Rugby Commentary website, told Radio New Zealand he'd been informed by executives at a charity fundraiser event that AIG had signed a deal with the New Zealand Rugby Union to have the logo printed on the shirt sleeve and shorts of the Rugby World Cup winning All Blacks kit. He said he had also been told the AIG logo would be on the front of the playing jersey.
The New Zealand Rugby Union confirmed to Radio New Zealand it is in discussions with several potential sponsors but would not reveal details until an agreement has been reached.
AIG was a sponsor of Premier League football giants Manchester United and appeared on the team's shirts from 2006 to 2010.
The All Blacks have had a shirt sponsor in the past, with Steinlager emblazoned on the right side of the jersey during the mid-nineties.
Most major international rugby teams - including the Australian Wallabies, South African Springboks and English, Irish, Scottish, Welsh and Italian rugby teams - currently have shirt sponsors, with logos of varying sizes and placement. The French rugby side currently do not.
Mr Thian wrote on his blog most All Blacks supporters would see a sponsor on the front of the shirt as a "fatal error".
"Even though I have a very wild and vivid imagination, but I am a conservative on the subject of the purity of the All Black strip of the New Zealand rugby team. I feel that the entire uniform should be simply black, with a silver fern on the left breast, the words 'New Zealand All Blacks' don't need to be there because it's obvious that the rugby player wearing this strip is an All Black."