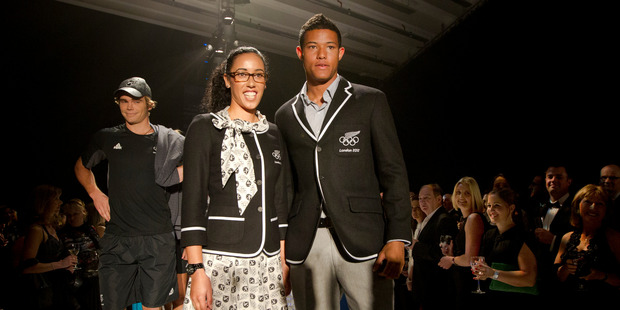 The New Zealand Olympic team will bring a 1940s flavour to London next month.
Athletes last night unveiled their uniforms for the 2012 Games at a catwalk show in front of a packed crowd including Prime Minister John Key.
The mainly grey, white and black pieces were inspired by uniforms from the 1948 New Zealand Olympic team - the year the summer Games were last held in London.
They were designed by Rodd and Gunn's Irena Prikryll.
The NZ Olympic Committee had been left embarrassed when, hours earlier, photos of the uniforms were posted on the brand's website before the official unveiling.
All Whites soccer player James Musa opened the show at Auckland's Viaduct Events Centre, sashaying down the runway in front of a large photo of the 1948 team celebrating arriving in Britain.
The 20-year-old was dressed in the formal men's uniform - a neat combination of grey slacks, a black blazer with white piping and a pinstripe shirt.
The blazer with the white piping along its edges is the most significant link to the 1948 team uniform.
New Zealand women's hockey star Melody Cooper, 29, donned the women's formal uniform, which will be worn with the black blazer at the opening ceremony.
The Black Sticks defender told the Herald she was impressed with the design of the white, above-the-knee cotton dress patterned with the New Zealand fern and Olympic rings emblem.
"It's really comfortable ... and tonight was the first time I had seen it.
"I really like the detail of the rings and the fern."
The rest of the pieces were a variety of training and informal casual wear, mostly black in colour.
However, splashes of blue featured on T-shirts, shorts and tracksuits as a tribute to New Zealand's Pacific heritage.
Despite their retro feel, the designs are undeniably more fashionable than the 2008 uniforms worn in Beijing - mercifully, there are no Crocs in sight this time.