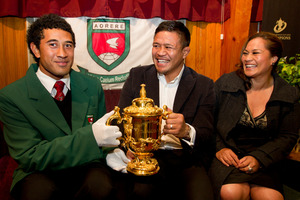 South Auckland high school students were last night given a close encounter with one of New Zealand's most precious treasures - the Rugby World Cup.
Senior students from Aorere College in Papatoetoe attended a dinner at the school, held in honour of former students All Black Keven Mealamu and Black Fern Fiao'o Fa'amausili.
Mealamu and Fa'amausili, who are both rugby world champions, were accompanied by the Webb Ellis Trophy.
The trophy, which was flown from Wellington, had its own minder for the evening.
New Zealand Rugby Union support manager Nick Gutzewitz was charged with handling the precious cargo during the Auckland trip.
He said there was a strict protocol for handling the trophy.
"It has to be carried on to the plane, and it only just fits in the luggage compartment.
There also has to be a [NZRU] staff member with it at all times.
"The only people that are allowed to touch it are the people that won it, so Keven can but no one else, not even me."
Mr Gutzewitz said gloves were provided for those who were not part of the 2011 All Blacks World Cup squad.
Student Siosiua Koloto - captain of the school's first XV - was one who got a gloved hand on the trophy, and he holding it was "cool".
Siosiua, 17, is in his final year at school and plays second-five eighths.
"It was me and Keven [holding it together]."
Black Fern player Fa'amausili, whose time at Aorere College overlapped with Mealamu, joked with her old classmate about the size of the Rugby World Cup trophy.
"It's huge ... well it's certainly bigger than ours."
She said it was great to be back at her old school, which she attended from 1994 to 1998.
"It's changed heaps - I can't believe how big it is now."
Fa'amausili, who like Mealamu plays hooker, said she played a variety of sports while at Aorere College .
"I played everything, even tennis. We didn't have a girls [rugby] team ... and netball was my main sport all the way through."
Mealamu said it was great to have the opportunity to speak to some of the students and share stories of his days as a pupil.
"I was here from 94 to 97 ... and I was captain [of the first XV] in my last year."
When asked about what it was like playing in his younger days, the world champion hooker said:
"I was a loose forward [because] I was a bit quicker back then."