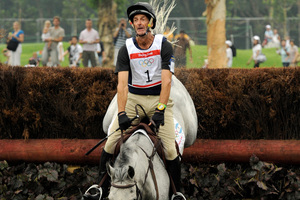 Whoever stands up for New Zealand at the London Olympics is more likely to be sitting down.
Whatever way the Games sports are divvied up, the country's premier athletes have a better chance of earning medals on their backsides.
History reinforces that premise: 47 of New Zealand's 90 Olympic medals have come via a seated position or, in the case of 1968 prone smallbore rifle bronze medallist Ian Ballinger, lying on the ground. Certainly there are exceptions. Val Adams shapes as the No 1 contender to defend her shot put crown and Andrea Hewitt is no slouch in the triathlon. Runners Nick Willis and Kim Smith, boardsailor JP Tobin and both hockey teams could also shine. However, the law of averages points to more medals being won on the hindquarters. Rowing, cycling, kayaking, equestrian and sailing are where the volume of metal discs are more likely to accumulate.
There is limited historical research as to why this is the case.
Historian Jock Phillips in his book A Man's Country? The Image of the Pakeha Male may go closest by identifying the principles which New Zealanders respected in their sportspeople in the mid-1990s.
"There was still an admiration for physical strength ... for working together as a team and for self-discipline."
Phillips was mainly referring to rugby but such values can apply elsewhere in the sporting genre.
Now the senior editor for heritage services at the Ministry of Culture and Heritage and editor of online encyclopaedia Te Ara, he says elements of that could apply to Olympic sports.
"New Zealanders really made their name at the Olympics through middle-distance running, which was central to the male culture because of the strength and endurance required.
"Sitting down might have been viewed as 'sissy' once, but many New Zealanders come from rural backgrounds where they've ridden horses.
"Rowing, like rugby, also strikes a chord with the national identity. It often involves people working together and the repression of pain. I think New Zealanders generally like to think they're pretty good at that."
Psychologist Gary Hermansson will be working with the New Zealand team and has liaised with Kiwi Olympians for years. He is set to publish a paper with colleague Ken Hodge in the Journal of Sports Psychology in Action. It is entitled Uncontrollable Outcomes: Managing Expectations at the Olympics.
Hermansson says the seated sports identified as key to New Zealand's potential medal haul make sense.
"They highlight the characteristics of a nation, be it riding horses or bikes around the countryside; sailing, rowing or kayaking on rivers, lakes and seas.
"The geography of countries means athletes gravitate to certain sports - take Nordic skiing success or African middle-distance running at altitude."