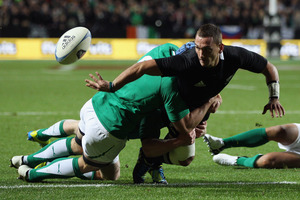 Chiefs first and second five-eighths Aaron Cruden and Sonny Bill Williams provided a salutary lesson in the value of picking Super Rugby combinations last night as the All Blacks continued their unbeaten 107-year run against Ireland with a record victory.
Cruden produced his brand of excellence in just 24 minutes.
Normally such a contribution would fall into the 'cameo' bracket.
This was an exception.
Cruden dictated his 11th test from the start, playing a crucial hand in the All Blacks' opening four tries.
They had established a 26-0 lead and taken control of the match by the time he left the field. Cruden suffered a twinge to an Achilles tendon, not that it hindered his playmaking.
A couple of backflip passes added pizzazz to perfunctory in his pivotal performance.
Poise was another asset. When taking a sideline conversion for the opening Sam Cane try, Cruden was faced with a premature charge from Irish wing Keith Earls.
Earls stopped; Cruden paused momentarily ... and eased into a successful kick.
Williams benefited from his Chiefs teammate's vision. Once considered an uber-sub he has looked every bit a test starter this series.
Last night was no exception. He hit passes right on the advantage line and consistently made metres as if he was back wearing the No. 12 jersey in the 13-man code.
Williams also punished on defence and produced a couple of hot kumara passes which found his outsides at pace.
Not normally to be entrusted putting boot to ball, Williams produced a perfectly weighted grubber for Israel Dagg to grab and score.
Hansen admits Williams has the edge over Nonu to start in the Rugby Championship.
"Ma'a has a chance to bounce back after his rest. He knows he has a challenge on his hands. Sonny Bill has shown himself to be the form No. 12 at the moment but, along with Conrad Smith you've got arguably the three best midfield backs in the world.
"It just depends on how we decide to use them in future."
Hansen acknowledged the value of the Cruden/Williams combination.
"What they did tonight was great, especially in a game on their home track. I'm excited for them."
Cruden's direction also offered benefits to the rest of the team.
Fellow Chief Cane was the first recipient, scoring his first test try as a result of slick hands from Cruden and Williams.
Williams took advantage on the next two occasions. Cruden took the ball to the line and produced googlies out of the back of his hand. The pair seized on weak defence from Irish No. 12 Paddy Wallace.
Cruden again capitalised on an Irish midfield handling error in the 24th minute; his final act of the game. He grabbed the ball, galloped 30m and delivered to Conrad Smith who popped a ball to Ben Smith for the latter's first test try.
Cruden's exit provided an insurance buffer for Beauden Barrett. He showed a willingness to tackle and demonstrated enough vision to suggest he's worth pursuing as the next generation's No. 10, albeit third in the pecking order for now.
Barrett was helped by the passing of halfback Aaron Smith whose performances were one of the highlights of the series.