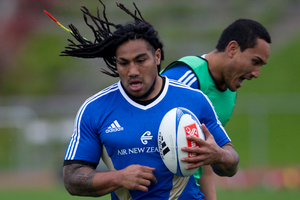 Most of Steve Hansen's ideas about the All Blacks have been refreshing.
The squad selection, test picks and plans brought a nice spice to the season.
But whether it was his idea or not, the decisions about Ma'a Nonu have been a nah ah no no.
This may be some murky work of the players' association, New Zealand Rugby Union or someone who has got some dirt on the selection panel, but Nonu's retention is wrong.
He has been a hell of a player for the All Blacks since he got his real act together in 2008.
His game improved, he added a stack of skills to his imposing running game and became an automatic pick. In a number of tests he dragged the All Blacks to victory.
Nonu's repeat selection improved the play of Daniel Carter and Conrad Smith on either side of him while he set new benchmarks with his work.
Then he chose to play in Japan and bank further megabucks after the World Cup before returning straight into work for the Blues.
Fine. That's his choice and one that was apparently agreed to by the NZRU and accepted by the Blues even though it meant a non-stop stint of about 18 months.
But to then pick him in the All Blacks with a specific purpose of NOT playing him seems daft.
Why pick Nonu and not play him when they could have simply overlooked him?
Is it because they do not trust him to train diligently by himself, he demanded retention in his contract or the selectors did not trust the alternatives?
Nonu must be laughing all the way to his bank account.
He's on a win-win roll.
Okay so he does not tangle with the Irish but he gets to recuperate and the loot keeps piling up.
Hansen explained the scheme as a way of keeping Nonu fresh for later in the year because he hadn't had a break.
That was Nonu's choice. The All Blacks selectors had to ignore him if they were not going to play him in the Irish test series and then the midfield back would have thought more about his ideas.
Tamati Ellison came back from Japan, played strongly and made the All Blacks on form.
There were others who could have taken up a place in the squad at Nonu's expense.
He will trundle back to the Blues, play a couple of games then wait for a month while the Super 15 playoffs rumble on before the start of the Rugby Championship.
Then we'll probably hear stories that he hasn't had enough rugby and he's rusty.