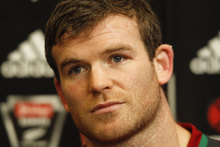 Gordon D'Arcy is readying himself for a tough night in Christchurch tomorrow.
In what are expected to be freezing, wet conditions, his night will probably consist of making plenty of tackles, chasing high kicks, and trying to get to grips with his opposite Sonny Bill Williams.
The latter challenge could be his most difficult. D'Arcy, who has replaced the injury Keith Earls to start at second-five for the first test match at the new AMI Stadium, said he had noticed vast improvements in Williams since the World Cup.
"In the World Cup he was being used in that 22 [squad] role, where he would come on to the wing or the midfield, but he's improved phenomenally in the last eight to 10 months and displaced probably the one of the form centres in the last two or three years in Ma'a Nonu, so that in itself is a hug task," said D'Arcy, who did not make the squad for last weekend's 42-10 first test defeat by the All Blacks.
"One of the things we've talked about is one on one tackles and that's something we have to live or die by.
"We learned last week that we can't be putting two or three people into the breakdown, particularly when you have guys like Sonny Bill offloading when he has two guys hanging off him; Richie McCaw as well, I saw him almost give a phenomenal (pass) to Vito in between two players."
Another in the Irish camp to notice William's improvements has been backs coach Les Kiss, an Australian who played league on the wing for the Kangeroos.
"The last six months when he's been with the Chiefs and controlling that midfield he's come on in leaps and bounds," he said. "It's not an easy thing that transition from league, it's a different environment at the breakdown and at contact."
Asked if the forecast wet and windy conditions would suit Ireland more than the All Blacks, Kiss said: "I've seen the All Blacks play in these conditions.
"Last year during the World Cup against Australia conditions were a wee bit wet, would that have made a difference? I don't think so, I think we were always going to win that game.
"In the northern hemisphere we play in those conditions a bit more but I wouldn't say it gives us an advantage. Whether it's wet or dry you still have to maintain that advantage, maintain possession and not give away silly turnovers. You still have to make your tackles."

- APNZ
By Patrick McKendry

Email

Patrick