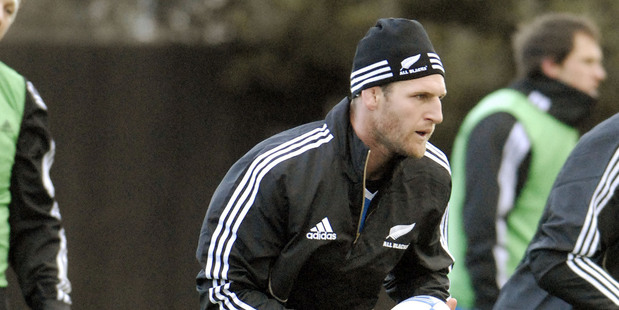 No mainlander would dare rib No 8 about his Jafa origins, he has the keys to Christchurch.
One of the All Black ideals is about growing rugby players, a holistic approach to their development.
It has been that way down in Canterbury for some time with the province and Super 15 franchise leading the way for New Zealand sides in performance and development.
Remember some of those who went south and whose subsequent performances went north.
Players like Ron Cribb, Norm Maxwell, Scott Robertson, Caleb Ralph, Rico Gear and Mose Tuiali'i. Ali Williams benefited from a season, Casey Laulala and Ross Filipo found much better consistency.
Perhaps the biggest gain though has been from nabbing Kieran Read, a promising rugby player who was dabbling with Counties development in his first year out of school.
An offer from the Crusaders, a willingness to shift, a great ability to learn and Read is now an All Black colossus.
The shift from red, white and black colours to the red and blacks has been the southern men's bonus.
No one down south would dare chip Read about his Jafa origins, he is as much a Cantab as another transplanted hero Richie McCaw.
"Essentially the request came after I was with the under 19s and 'Aussie' McLean [All Blacks assistant coach] was Canterbury coach at the time and academy director Rob Penney kind of asked me to come down. They were really interested in me and showed a lot of intent in seeing me come down whereas a few different teams up north didn't show the same amount of enthusiasm when looking at me."
All that southern flattery worked on Read, while he insisted that even if things had been different he would not have shifted to Auckland.
Where Canterbury and the Crusaders were at that stage in 2004 appealed to Read. Counties were second division and he had the chance to work with coaches like Robbie Deans and a clutch of serious All Blacks.
Read is now a 37-test veteran, a loose forward who has turned out 83 times for the Crusaders and captains the side when McCaw is unavailable.
He has the keys to Christchurch. And no way will he leave.
He and his family have endured some tough times after the earthquakes but it has not shaken their ideas about living down south.
"I try and stay away from all that talk. My family is comfortable and happy down here, we love the lifestyle before and even after the earthquakes.
"That is something we are living through now. It suits us down here and these things give a real meaning to our lives," Read said.
Rugby is one of the strong threads which binds the area. The Crusaders struggled playing their rugby for long stretches on the road but now they have a new stadium at Addington, they have reclaimed their supporters.
Read thinks the sport is treated with great respect throughout the province and there was a general feeling of support for them and the All Blacks.
"There is a great positive feeling throughout the community down here," he said. It had seemed to increase after the earthquakes. But it had been a tough journey.
"At first fans weren't turning up for a variety of reasons, they were doing it tough but there has been a switch I guess over the whole country in the last wee while. Coming back here with the Crusaders and being able to play on our own ground and the work that we do in the community has helped," Read said.
"The fans seem to appreciate that and come out to support us."
Read did not think the Crusaders could have weathered another year on the road. They would have preferred to play at any club ground rather than travel each weekend.
"But we are professional and I guess we would have done what was required but having our ground now is a real focal point."
The 26-year-old likes the new stadium, it is a purpose-built rugby ground with the crowds near the touchlines and that size has created real demand.
The Crusaders have pre-sold most of their matches and having a niche stadium was the future for the franchise. It created a great atmosphere and there was a real clamour to be part of it.
Read revels in leading sides when McCaw is out of commission.
"It is something I get a great kick out of, to lead a team and you not only do a lot of work throughout the week but on the field it is really enjoyable too.
"I love great players and the Crusaders team so it's amazing. There is a big workload but those are the things which come with the honour of captaincy. You want to be adding to the team so you have to do that stuff. You can't let it faze you, you have to be the one who shows the strong face for the team and doing extra things which need to be done. It is a privileged position and you see that with Ricko [McCaw] and the amount of work that he does. It is great to look at your leader and see him doing the extras and making it easier for the team.
"He's not too bad."
That's Canterbury and the Crusaders, too - understated overachievers.