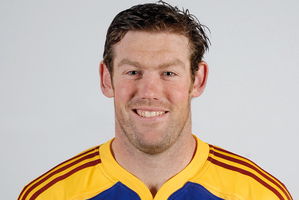 Tom Donnelly has made no decision on his future, but if he stays in New Zealand he will still be playing for Otago.
The 30-year-old shifted to the Crusaders this season after playing 65 games for the Highlanders since 2004, and said the red and black regime was something new for him.
"It is hard to describe, really. It is quite unique and hard to spot from the outside but it is just the way the whole environment is run and it is pretty special," he said.
"The coaches are guys who really want you to be part of the team and are very welcoming. It becomes like you really want to play for them.
"Sure, it is the same old grass and you do the same old things like any team, but it is pretty special." Donnelly said he was probably going stale at the Highlanders without realising it. "I probably got a bit stuck in my ways. I played eight years for the Highlanders and saw a few people come and go. This is a new challenge for me."
He is on the bench for tomorrow night's game against the Highlanders and is predicting plenty of fireworks from both teams.
"It's a pretty crucial game for both teams with points up for grabs and getting near the business end of the season."
He has been happy with his game so far this season, mixing some starts with coming off the bench, although he appears to be behind locks Sam Whitelock and Luke Romano of late.
"I have been working pretty hard and happy with what I've got. I've just got stuff I need to work on and keep plugging away at."
He said the coaches were wanting him to be more dominant at the breakdown and work hard right round the field.
Donnelly, a 15-test All Black, may have left the Highlanders, but he still owns a house in Dunedin, and with the Crusaders having a bye last week journeyed south to catch up with friends.
He went to Milton to watch Lawrence play Toko and catch up with former Otago teammate James Kenny.
Donnelly's contract with the New Zealand union runs out at the end of the Super 15 and he is still weighing up the rest of this year.
Not picked in the All Black training squad, he may feel his future is overseas, but he still has a fondness for the blue and golds.
"I haven't made any decision yet and am still weighing things up. But if I do stay here then it will definitely be playing in the blue and gold of Otago."
- Otago Daily Times