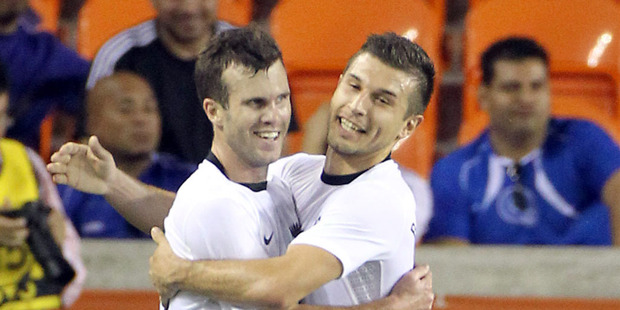 Michael Brown lists five reasons why we should be optimistic the All Whites can qualify for a third World Cup.
1. Qualification process
It's hard to escape the fact New Zealand have a helpful route to the 2014 World Cup in Brazil.
Australia's departure to the Asian confederation assisted immeasurably and this was further enhanced by a decision by Fifa to re-examine the World Cup playoffs. For some time, Oceania teams faced the near-impossible task of taking on South American opposition but New Zealand were handed the much more pleasant prospect of playing Bahrain, the fifth-placed Asian side, for a place in South Africa.
This time around they need to get past the fourth-best team in Concacaf (North and Central America). That's assuming they win the Oceania zone, which they should. If they can't do that, something very bad will have happened.
2. Youth
A large proportion of the All Whites squad who went to South Africa were born in 1981 or 1982, the time of New Zealand's last successful World Cup campaign. They will all, however, be four years older by the time the next World Cup cycle rolls around. The emergence of the next generation of players has been one of the most encouraging aspects of New Zealand football.
Against Honduras on Sunday, they were captained by Tommy Smith who, at 22, was the youngest skipper of the national side. On top of that, seven of the starting XI and five of the six substitutes were 25 or under. A side of the present and future is being shaped with the likes of Smith, Winston Reid, Marco Rojas, Kosta Barbarouses, Chris Wood, Ian Hogg, Michael Boxall, Tim Payne and Cameron Howieson.
3. Brand of football
Too often in the past, New Zealand teams hoped to nick a result. It was about lumping it long and then hoping they could hold on at the back. That seems, for now at least, a thing of the past. The All Whites now have players who are comfortable on the ball and can play it out from the back rather than looking for safety first. It means they are creating more chances and, with a host of striking options, have players who can take them.
4. Results against Honduras and El Salvador
New Zealand came into the two matches against El Salvador and Honduras ranked 130 in the world, which illustrates the flawed system Fifa use. They should slot in between about 60 and 70 in the world and sit further down because they play few meaningful matches (it will jump significantly after the upcoming Oceania Nations Cup). But to come away with a win (1-0 over Honduras) and a draw (2-2 with El Salvador) against higher-ranked opposition was meritorious and showed they can play winning football against decent teams. It was even more significant when considering the fact New Zealand could face either side in the inter-continental playoff for a spot in Brazil.
5. Depth
For the first time in what seems an age, there is considerable competition for places. Coach Ricki Herbert came up with his 3-4-3 formation to tackle Bahrain to ensure he had his best 11 players on the park rather than any belief it was the best system. He could now employ almost any system he wants and be left with difficult decisions around who to miss out. Who, for instance, will he start with up front in the Solomon Islands when he has Shane Smeltz, Wood, Chris Killen, Barbarouses, Rory Fallon, Rojas and Payne at his disposal? Nice problem to have.

- APNZ