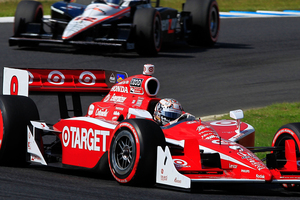 For the first time in the 96 years the Indianapolis 500 has been run, there will be two New Zealand drivers on the grid for the great race on Monday morning (NZT).
Scott Dixon, the 2008 winner, has qualified for the race all 10 times he's tried, and now Wade Cunningham joins the 33-car field at his first attempt.
Cunningham is by no means out of his depth and has won at the Indianapolis Motor Speedway three times in the past. He's the only driver in the history of the Indy Lights Freedom 100 support category to bag a triple, with wins in 2005, 2006 and 2007.
Although he is one of eight rookie drivers in the field this year, which includes former Formula One drivers Jean Alesi and Rubens Barrichello, the Aucklander has plenty of experience at the circuit and completed as many laps as just about anyone else in the field.
Qualifying didn't go according to plan with Cunningham just missing out on making the field on pole day and had to punch it out on Bump Day with nine other drivers.
With the car a bit more sorted he was second fastest and made the grid in 26th spot.
"It was a relief but also a bittersweet moment," Cunningham said. "The whole point of qualifying is to go out and give the maximum performance you can.
"Once we missed the opening day's practice we were on the back foot. It was a bit anticlimactic from my point of view, but obviously I'm very happy. It's been a long road for me to Indianapolis. I got to the States in 2004 - eight years of hard work and commitment, it's a very proud day for me."
This will be his fourth race, having made his IndyCar debut at Texas Motor Speedway last year where he qualified eighth. Although he didn't finish either race at Texas, he went on to finish seventh in his next race at Kentucky.
"After the issues with qualifying, we're on top of the car now and there's absolutely no reason why we can't have a great result on Sunday. The car's handling well and we're competitive on speed.
"We just have to make sure we get all the ingredients right to get the result. You never know what's going to happen in the race so you just have to get yourself in a good position towards the end of the race.
"The goal is to keep our noses out of trouble, minimise the mistakes, get through the pit stops without any dramas and then see how we shake out at the end of 500 miles."
Playing the game of chance at speeds in excess of 300km/h and getting it wrong, or being in the wrong place at the wrong time, has far more ramifications than missing a tackle or pulling a hamstring.
Cunningham is no stranger to such danger and was caught up in the tragic accident last year at the Las Vegas Motor Speedway where Dan Wheldon died as a result of his injuries.
"The accident was a bit of a wake up call for everyone," Cunningham said. "We've all been involved in some big accident and almost now expect to walk away.
"You saw a 15-car pile up and it's not like you can point the figure at any one person. This is what happens when you travel at 380km/h and you're literally six feet behind the car in front of you.
"Decisions are made in a split second and, although you may not have made the wrong decision, you still could be in the wrong place at the wrong time. I think that's what happened to Dan."
Wade Cunningham
Firestone Indy Lights Series
Starts: 56
Wins: 8, including three Indianapolis Freedom 100 races
Poles: 9
Championship titles: 2001 Asia-Pacific Championship, 2003 World Karting Championship, 2005 Indy Lights Series.

- APNZ