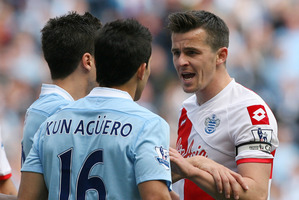 Here are the titles of some unlikely books: Making Friends With Maoris - by Act backer Louis Crimp; How To Influence A Murder Trial With Your Giant, Throbbing Ego - by Elliot Turner; and How To Retire Early - written by anyone in Greece.
To those books likely never to be written, add a fourth that is being penned but will hopefully never be read - Joey Barton's biography.
Barton is the football player for whom the ubiquitous chant on English football terraces could have been invented. You know - "There's only one Joey Barton". God forbid there should be two of them.
Barton, the former England and Queens Park Rangers midfielder sent off against Manchester City for yet another violent outburst, will serve a 12-match ban next season after he elbowed City's Carlos Tevez in the throat, then kicked Sergio Aguero and attempted to head-butt City captain Vincent Kompany.
All in the same minute or two during City's stirring, last-gasp winning of the English Premier League.
Barton, a busy user of Twitter, then revealed that his actions against Aguero and Kompany were an effort to provoke a City player into also earning a red card - evening up the two sides.
We all know that some players on some occasions have play-acted for the referee, trying to fool him to send off an opponent.
That is cheating, pure and simple, and is bad enough. But to admit it in public? Time for Joey to go.
Permanently.
QPR have said they will sell him; even though he has three years left on a £4 million-a-year deal. But who'd want him? Even if there is some addled manager who thinks they can take this writhing pile of angst and violence and turn it into a football player, there must now be a very real case for Barton to be banned from football for life - or for the market to vote with its silence and let this player sink beneath the waves of his own failings.
The conundrum is that Barton is a good footballer, an intelligent man with 10 GCSEs, albeit with an aptitude for falling out with authority and a hair-trigger which sees him lapse into often nasty spells of violence, on and off the pitch.
The Joey Barton Hall of Infamy and Second Chances speaks for itself:
* 2004 - Manchester City contemplate sacking him after an incident at their Christmas party where he stubbed out a cigar in the eye of youth player Jamie Tandy, after he had caught Tandy attempting to set fire to his shirt. Fined £60,000.
* 2005 - City send Barton home from a pre-season trip to Thailand after attacking a 15-year-old Everton supporter who had verbally abused him and kicked him in the shins. Fined £120,000 and sent to Sporting Chance clinic for troubled sportspeople, prompting an improvement in his behaviour.
* 2006 - Exposes his backside to taunting Everton fans following an injury-time equaliser by City. Fined £2000, no action taken by police.
* 2007 - Assaulted City team-mate Ousmane Dabo, hospitalising him with, among other injuries, a suspected detached retina. Barton was charged with assault, was given a four-month suspended sentence, plus 200 hours of community service, and was ordered to pay £3000 in compensation plus court costs. Fined £100,000 by City. Charged with violent conduct by the Football Association - banned for six games, with a further six suspended. Fined £25,000 by the FA.
* 2007 - Arrested for assault in the Liverpool city centre at 5.30am. CCTV evidence showed Barton punching a man 20 times and attacking a teenager, breaking some of his teeth. Jailed for six months (he served 11 weeks).
* 2009 - After a 2008 blighted by injury, Barton is sent off in his first game back from injury after a dangerous tackle at Liverpool, earning a three-game ban when Newcastle needed him to try and avoid relegation. Newcastle suspend him indefinitely. However, even after clashing with manager Alan Shearer, Barton stays with the relegated club and helps them earn promotion back to the Premier League.
* 2010 - Punches Blackburn's Morten Gamst Pedersen in the chest. FA again charge him with violent conduct. Barton apologises, banned for three matches.
* 2011 - Newcastle encourage a reluctant Barton to leave. Signs with QPR after a free transfer.
* 2012 - The melee with Tevez, Aguero and Kompany. Barton admits trying to "take one of their players with me". Is now facing two FA charges of violent conduct, though he rejects one of them. Makes matters worse when he takes on England football icons Shearer and Gary Lineker, now TV commentators critical of Barton, on Twitter - calling Shearer "a s*** pundit/manager" and Lineker "an odious little toad". Threatens to reveal skeletons in the Lineker closet.
Surely he's not all bad. He has talked of his pro-gay stance; he is a patron of a charity for people with addiction problems and part of a campaign to get children to go fishing rather than get into trouble.
But the City incident simply shows that the instinct for violence is more than latent and, if he is to be believed, is also used for cynical reasons.
The BBC, in one cringe-provoking story about Barton last year, talked about the budding philosopher reinventing himself on Twitter; they talked admiringly of his ability to debate the government's election platforms; his tweeted thoughts about engineer Isambard Kingdom Brunel and the works of Virgil, Seneca, Orwell and Nietzsche. They said Barton had reinvented himself as a "philosophical sportsman to rival Eric Cantona".
Oh yeah? That calls to mind the Stanley Kubrick classic movie A Clockwork Orange - where the vicious young hoodlum at the centre of the plot is seized upon by a politician to demonstrate how such serial offenders could be transformed by appropriate medical care.
After the programme, the hoodlum Alex is proclaimed a miraculous cure. As the media flash bulbs are popping, Alex looks like an angel - but is actually picturing an orgiastic rape scene in his mind and the movie ends with the words: "I was cured, all right!"