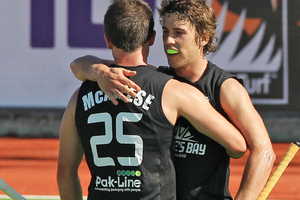 The Black Sticks men's team have started the Sultan Azlan Shah Cup with a comprehensive 5-1 victory over India in Ipoh, Malaysia last night.

Striker Simon Child, who is one of at least six players who have been struggling with illness, opened the scoring in the first minute of the match with India replying five minutes later.

A superb penalty corner from Andy Hayward right on halftime gave the Black Sticks the lead at the break.

Nick Wilson and Stephen Jenness slotted in goals just after the break and a penalty corner to Matt L'Huillier at the 65 minute mark put the result beyond doubt.

Vice-captain Shea McAleese was named player of the match.
Black Sticks coach Shane McLeod was very pleased with the scoreline against the 10th-ranked Indians.

"Considering what we've been through this week I was pleased with a number of aspects of our game. Our deep defence worked well and only gave away a couple of penalty corners and they were always well positioned for the crash ball from India.

"We played the game at a faster pace than India and most of our goals came from those counter-attacks."

The Black Sticks play ninth-ranked Argentina in their second match of the tournament tonight (NZ time).
Argentina lost their first match 4-2 to Pakistan.
- APNZ