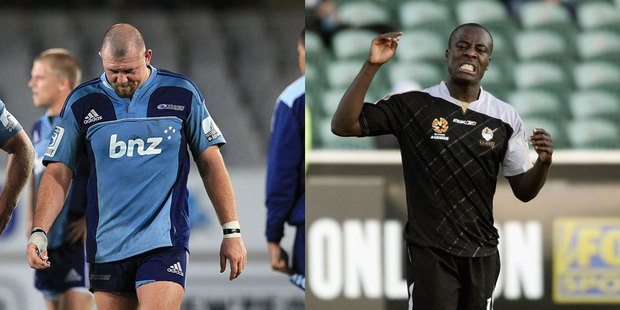 The Blues franchise has been a shambles in 2012 and as their season goes from bad to horrific, they are making a case for being one of New Zealand's worst sports teams over the past twenty years.
After seven consecutive losses the Blues looked like they might finally be headed in the right direction, grinding out an un-inspiring win over bottom the table Lions two weeks ago.
But then they hit rock bottom, suffering their worst ever defeat in a 59-12 loss to the Crusaders in a match where the wheels well and truly fell off.
The Blues - who have an injury list mounting into the double figures - have averaged conceding 28 points per game and now sit 33 points behind the table topping Chiefs.
There has also nearly been as much disarray off the field as on it, with All Blacks turning up out of shape, the coach publicly breaking down over racial abuse and the franchise advertising the position of head coach mid-season.
It may be difficult to judge mid-season, but if they continue down their wayward path here is a look at some New Zealand team's they will be competing with for the worst team of the last two decades.
Breakers (2004 - 2006)
Before the Breakers earned back to back NBL titles, there was a period where they were bad. Really bad.
In the two seasons between 2004 and 2006 the Breakers had a combined record of 18 wins and 46 losses.
In 04/05 they finished bottom of the eleven team league with a woeful 9-23 record, before posting an identical record in 05/06 - in which they suffered an eleven game losing streak - to finish ninth.
Crusaders (1996)
In the first season of Super 12 in 1996 the Crusaders scratched out just two wins and a draw along with eight losses to finish dead last.
But - encouragingly for the Blues - the red and blacks, captained by Todd Blackadder, bounced back quickly to take the title in 1998 by defeating the Blues at Eden Park in the final.
Warriors (2004):

The Warriors team of '04 was the worst, with a scoring deficit of nearly 11 points per game and just missing the wooden spoon by one.
The '04 season started with three consecutive losses and ended with six. That team finished 14th out of the 15 clubs playing, scoring 18 points per game, whilst conceding nearly 29 per outing. Ouch. That is the worst defensive record for the club in a season.
YoungHeart Manawatu (2011/2012)
Manawatu re-wrote the Bad Form Guide in the 2011/12 ASB Premiership, becoming the first team since Christchurch Rangers in 1981 to go winless in a national league soccer season.
Manawatu scraped 3 draws from 14 matches - scoring 12 and conceeding 61- to record the lowest points tally. By contrast Rangers had five draws (but the advantage of a 22 game season versus 14 matches.)
Black Caps ODI team series v Bangladesh (Sept-oct 2010)
Below are some of the Black Caps worst ever One Day International series results:
Tour of West Indies 1984/85 - Played five lost five
Tour of South Africa 2000/01 - Played six lost five (one no result)
Tour of Pakistan 2003/04 - Played five lost five
Australia in NZ 2004/05 - Played five lost five

All of which however, were against more established teams than Bangladesh...
The 2010 Black Caps' third straight ODI loss to the world's ninth ranked side, handed Bangladesh their first ever series win over a major cricketing nation.
The Black Caps were down 4-0 in the five match series with one game rained out - an embarrassing series whitewash.
Before the tour the Black Caps had lost only one ODI to Bangladesh in 17 encounters.

Central Pulse netball (2008/2009)

The Central Pulse failed to win a game in the inaugural 2008 ANZ Championship season, losing 13 games.
And they didn't fare much better in 2009, losing a further 12 of 13 matches. Just to spell that out, that means that over two seasons they lost 25 out of 26 games. Ouch.
The New Zealand Knights (2005-2007)
This ill-fated franchise replaced the Football Kingz in the A-League and started with high hopes.
They scoured the globe in search of talent and ended up with players from all corners including such football powerhouses as Canada, China, Japan and Switzerland.
The Albany-based team were woefully out of their depth, at one point losing 11 consecutive matches as part of an 18-match winless streak that lasted one year.
- Herald Online