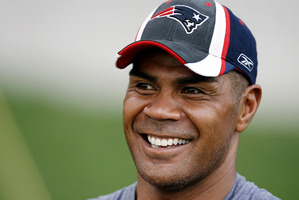 As Sam Thaiday bounced off the shoulder charge of Warriors prop Ben Matulino and kneeled motionless for some time last weekend, it was impossible not to think of Junior Seau, Dave Duerson and Mike Webster.
Thaiday looked as if he might have been concussed. There was no way of telling as he got back to his feet and played on like nothing had happened - not uncommon in the NRL, where there is still admiration for players who play on when injured.
It called to question concussion issues in this part of the world - how many rugby and league players accumulate undiagnosed head injuries as Duerson, Webster and now Seau are said to have suffered?
Seau is the latest NFL player to have concussion named as the No 1 suspect in his suicide.
Webster was the man who started it all, a former player for the Pittsburgh Steelers and owner of four Super Bowl rings.
Webster developed major mental health issues - he was found urinating into his oven and put super glue on to rotted teeth. Concussion can cause sleep issues and Webster was so desperate, he used a Taser to knock himself out.
His autopsy (he died of a heart attack) found a previously unknown brain disease which came to be called Chronic Traumatic Encephalopathy, or CTE.
It causes degeneration of brain tissue. Symptoms of CTE include depression, aggression, violence and extremely advanced Alzheimer's. Seau's death and possible link to depression caused by repeated concussions has been seized on, as his suicide happened a month after that of Ray Easterling, the former Atlanta Falcons player who was the lead plaintiff in a class action lawsuit against the NFL over concussion-related injuries - a lawsuit which named more than 1000 professional players.
Seau was not one of them, though. Pittsburgh lineman Justin Strzelczyk was. He drove his pick-up truck into a tanker of corrosive acid during a high-speed police chase, a crash that killed him at the age of 36.
Most thought he had alcohol and drug issues but autopsies revealed he had brain damage, most likely from years of impacts playing football.
Seau, an American Samoan NFL star, committed suicide on May 2 and his death has again fanned the fires of the dangers of concussion. Known mostly for his exploits with the San Diego Chargers, Seau's NFL career spanned 20 years; he retired only three years ago, when he was 40. The average career is three to seven years.
He was a man of sunny disposition but was found dead at his California home by his girlfriend, with a shotgun wound to the chest, judged suicide by the coroner. His death (and manner of it) were a shock, as he was regarded as happy - although there is room for some doubt about the role of concussion in his death.
His divorce in 2001 played out publicly, as did financial troubles and a 2010 incident in which he was arrested on suspicion of assaulting his girlfriend. Just hours after he posted bail, the vehicle Seau was driving went over a seaside cliff. He was treated for minor injuries and told police he fell asleep. No charges were filed in the assault case and although there were some questions over the possibility of suicide by car, no charges were laid. But the whole subject of concussion affecting players' mental health is a hot issue in the US.
Duerson, a former Chicago Bears player, committed suicide last year - also with a bullet in his chest. He left a note that his brain should be examined for damage he believed was caused by repeated blows to the head.
Boston University's Center for the Study of CTE found that Duerson suffered degenerative damage to his brain because of repeated hits. Garrett Webster, the son of Mike Webster, now works for the Brain Injury Research Institute and has lobbied the Seau family to see if they will donate his brain for research into the issue.
The NFL has dismissed the Easterling lawsuit's contention that links between football and brain injuries were concealed.
It should also be pointed out that American football is one of the most punishing sports on the planet. One study found that players used their head "as a weapon" 30-40 times a game - not a factor in union or league. In this part of the world, the NRL has tightened its concussion guidelines, including fines for clubs which let concussed players back on to the field. But you wonder just how much goes undetected.
Kathryn Fox, a Sydney doctor who spent three years researching the effects of head injuries on footballers, is in no doubt.
"Up to one in five people who suffer concussion will have cognitive or personality changes. That's irrefutable," said Dr Fox. "And here in the NRL, we're treating our young men like human crash test dummies; involving them in collisions the equivalent of hitting your windscreen while driving at 60km/h. They're doing it hundreds of times a year, too," she told Sydney's Daily Telegraph last year.
A few weeks ago, I wrote in a column that league should retain its shoulder charges - a gladiatorial part of the game in an age where contact sports have sometimes been a little too diluted when it comes to physical contact.
Maybe I was wrong. By any measure, the Webster-Duerson-Seau stories are frightening.
I can also remember my own weird behaviour when I was last concussed in a rugby game, not all that long ago. My team-mates told me that I walked about in the backline, snorting with derision at our opponents and attempting to organise my team to head to the bar, even though the game hadn't finished. Why? No idea.
So maybe it is better that a practice which has a concussion risk is banned. Sam Thaiday might even agree.