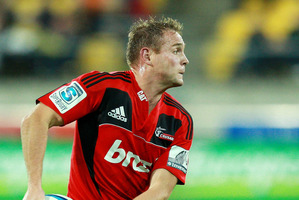 1. Game of the week
Crusaders v Reds
Christchurch, Sunday, 4pm
Referee: Bryce Lawrence
TAB: Crusaders $1.17 Reds $4.50
Slim pickings this week, but we do have a blessed Sunday afternoon kick-off and a repeat of last year's final to round out the weekend.
There will be a bit of sizzle but probably not a whole heap of spark.
The Crusaders have done a nice job of clearing their throats in the past fortnight but the Reds look as if they've spent the past 10 months celebrating their title.
Some of their problems - like the injury curse at first five-eighths - are not of their making but it's still difficult to reconcile this side with the one that swept through the Super 15 landscape last season.
You've got to think Andy Ellis has been busy sharpening a few lines of encouragement for Will Genia, after the Wallaby halfback's embarrassing contract flip-flop.
2. Carter v Byrnes
The tastiest stoush of the season
So Waratahs' back Tom Carter complains of an eye gouge against the Rebels' Adam Byrnes. Video evidence tends to suggest Carter has made a mountain out of a molehill at best, been mischievous at worst, but somehow the judiciary rules in his favour, stinging Byrnes with a 12-week ban.
After two weeks he has it overturned. Understandably angry, he lets fly in an article, saying, among other things, that "to carry on in terms of bringing another player down and potentially ruining their livelihood, it is a very poor quality to have as a human being".
Sanzar = unhappy. They have now issued Byrnes with a strongly worded warning, a fine of A$5000 plus costs for speaking his mind.
Public sentiment would appear to be on the side of Byrnes ... just another reason to hate the Waratahs.
3. Stat attack
The Chiefs have proven to be very good frontrunners, but slightly less reliable in the second half. Not once have they gone to the break this season trailing, though they were level once.
The Chiefs have accumulated 122 first-half points, three more than their second- half haul. The real difference is on defence, where they've conceded just 66 first-half points as opposed to 96 in the second.
4. Coach under pressure
John Plumtree (Sharks)
Still a 100 per cent record for coaches who have appeared in this column. Even the Blues managed a win - against the Bulls in Pretoria of all teams - after Pat Lam was put on the hot-seat.
The Sharks are too good to be languishing in the midtable. They've probably given the Bulls and Stormers too much of a lead in the South Africa Conference, but they can still sneak that sixth playoff spot if they go on a tear from here in.
Plumtree, one of South Taranaki's finest, needs that run to start now.
5. Money ball
Herald betting analyst Michael Guerin searches for weekly gems.
The Crusaders lost their status of favourites this week - for two days.
That was how long the Chiefs and Stormers replaced the Cru, who had been favourites since November before the betting public spoke and they were back into $3.25 to win the title.
They have an easier run home than the Chiefs, playing their highest rated opponents at home, but the crucial clash could come on July 6, when the Chiefs host the Crusaders.
The winner of that could get home finals and the loser gets more time in the Koru Lounge. With the Cru likely to have more draining All Black commitments, that could be the defining match of the season.
The bet of the week is an easy one: Both the Blues and Hurricanes to win by 12 or less for a healthy profit because neither of them are good enough to thrash the other.
The Blues, for all their faults, have only lost one game by more than 12 points and that was away to the Chiefs.
Twitter: @GuerinSports
6. Say what?
"I ask them, tell me who you would put in there? It is easy to say this guy is not playing well, but who are you going to put in, who is the option? Most people I talk to can't give me any options either."
- Pat Lam on how he responds to members of the public insisting he drop players. Of course, if the Blues didn't have such a wretched recruitment record, they might in fact be able to give alternatives. Just a thought, Pat.