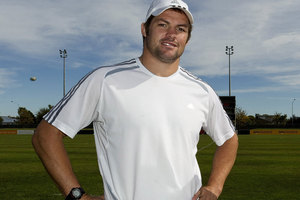 The sight of Richie McCaw running pain-free and taking part in some contact work at Crusaders training was a welcome one but the All Blacks captain won't rush his return to the playing field.
McCaw hasn't played since the World Cup, when he was badly affected by a foot injury, and he is the only World Cup-winning All Black who hasn't returned to action. The 31-year-old had surgery on his foot soon after the tournament and last week had the screws removed.
He was loathe, however, to put a date on a return. It had been thought as little as a fortnight ago he might return to face the top-of-the-table Stormers this weekend but will miss that game and it's doubtful he will suit up against the Hurricanes the following weekend.
The Crusaders' trip to face the Waratahs on April 29 looms as the earliest possibility. He could opt to play for his local club - Christchurch - but he's not the sort of player who needs to prove his fitness at that level and, after 103 tests and 110 Super Rugby games, knows what his body is capable of.
"I still don't want to put a date on it because I just need to see how the next couple of weeks progress,'' he said. "I had a wee op to get the screws out and it feels pretty good so all on track. The next couple of weeks I will build into full training and then, I guess, we will make a decision from there.
"There's no pain. It's good. It's the lungs more than anything that are going to be the tricky one but that's what the next couple of weeks are about. Before I play, I need to make sure I can do the job fitness wise. I am very happy with where I am at. I just need to make sure I do what we need to from now on.''
There is still plenty of time left in the Super Rugby season, not to mention the heavy diet of international rugby as well with the three-test tour by Ireland, new Rugby Championship (New Zealand, South Africa, Australia and Argentina) and end-of-year tour of the UK and Italy.
McCaw wants to make sure his foot is right before he takes any chances and the Crusaders, as much as they would like the All Blacks skipper back as they look to climb the Super Rugby table, have good loose forward depth with Kieran Read, Matt Todd and George and Luke Whitelock.
McCaw said he was coping spending time on the sidelines and it's likely to freshen him up after such a draining couple of years.
"I'm not frustrated,'' McCaw said. "I realise this is going to take a while and it's all progressing along as I would like. Sure, I would love to be out playing but I need to make sure when the foot says it's right to play, I play. You don't want to come back half-cocked with this team. You want to be ready to go. The boys are obviously keen for a big one this week because the Stormers are a big challenge. We will get out there when we are ready.''

- APNZ