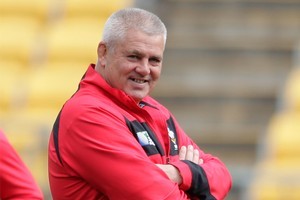 Welsh rugby coach Warren Gatland has his legs in casts after falling while cleaning windows at his Waihi Beach bach on Monday.
The New Zealander lost his balance about 8.30am and fell three metres onto concrete, taking the full impact on his heels, the Welsh Rugby Union said in a statement.
He suffered multiple fractures to the right calcaneus and also a fracture to the left calcaneus.
He is in leg casts and requires surgery to reconstruct his right heel at Waikato Hospital.
The WRU group chief executive, Roger Lewis, said although it could be several weeks before he fully recovers he is expected to be able to return to active coaching duties before his recuperation is complete.
"We all wish Warren a speedy recovery from the injuries he has suffered in this extremely unfortunate accident," Mr Lewis said.
"Knowing Warren as I do I can reassure the Welsh rugby public that he has diligently put the people and processes in place to ensure he stays closely linked to what is happening in the game back here in Wales.
"I have spoken to Warren on a number of occasions since his fall and have told him he will lead the tour to Australia unless anything unforeseen happens in the prognosis for recovery we are working to."
Wales next match is against the Barbarians in June at Millennium Stadium in Cardiff, before four match tour of Australia kicking off on June 9.
Gatland is not expected to have any major impact on the national side's preparation for the Australia tour, and plans have been put in place for Gatland's assistants to provide updates on squad players and potential players over the coming weeks.