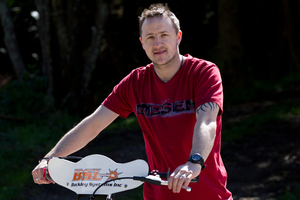 The relaid Western Springs track is getting a thumbs up from speedway's finest riders in preparation for Saturday's historic opening round of the world GP series.
The real test will come today and tomorrow in practice sessions, but the big track with wide corners which has been redesigned under the direction of Danish speedway legend Ole Olsen will encourage spectacular action.
American Greg Hancock, the 41-year-old world champion, said: "The track looks fantastic. Ole Olsen and his team have done a wonderful job and I can't wait to get out there and start racing.
"It looks perfect ... it is big, wide and has plenty of banking and I'm sure it will generate many racing lines."
Although Auckland was once a leading world speedway venue, the sport has slipped and the Western Springs track has become a car racing domain. The bikes have returned under a deal that will see the Springs host a world GP round for a further two seasons.
Saturday evening's event is just the second time a world series round has been held outside of Europe.
Englishman Chris Harris, the lone Brit, said the riders would know if their preparation was on track only after today's unofficial session.
"Some riders will go with bike setups they know and others will try something different with this being a new track for us," he said.
Harris predicted plenty of action on Saturday. "Speedway has its aggressive riders, the laid back ones who are more chilled, and the in-betweens. That's what makes the sport so good.
"You've got a guy like Jason Crump who can be very aggressive in the first corner but we can all be that way - that's why we are in the world championship.
"You'll definitely see that on Saturday. Being the first grand prix, everyone wants to put a benchmark down. No one will give an inch."
The promoters are expecting up to 15,000 spectators, with the gates opening at 2pm and racing starting at 4pm.