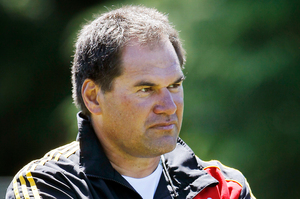 Armed with common sense, old school values and a keen eye for appropriate talent, the respective coaching teams at the Chiefs and Highlanders have established their credentials as future All Black candidates.
Neither Dave Rennie nor Jamie Joseph are in any rush to jump into test football but, by 2015 when the Steve Hansen regime will almost certainly come to an end regardless of results and achievements, the respective current coaches of the Chiefs and Highlanders could take over.
It's obvious even now they have what it takes. Both the Chiefs and Highlanders have enjoyed promising starts to 2012. That in itself potentially means little in a six-month campaign, but both sides reek of good structure, quality preparation and obvious pride in the jersey.
Dave Rennie is probably the closest thing New Zealand has to another Graham Henry. Rennie, like Henry, made barely a ripple as a player but has served a long and successful coaching apprenticeship. Rennie adheres to the basics with the same religious dedication as Henry. Where he and Joseph may stand apart from the other aspiring New Zealand coaches is their ability to select players few others would back.
Todd Blackadder is an astute judge of men too but Rennie and Joseph have that rare ability to see potential in players everyone else has disregarded. Rennie was criticised last year for not finding a place for Bay of Plenty No 8 Colin Bourke. Athletic and skilled enough to have played first-class games at fullback, Bourke has never been short of admirers. But Rennie is not the sort to be blinded by bright lights. To his mind Super Rugby, in the forwards at least, is the domain of workhorses.
The skill is to find robust players who do their core jobs well in week one through to the bitter end. Was that Bourke? Rennie bought Kane Thompson, a versatile forward with international experience who empties the tank and puts his head in places where it could get hurt. Mo Schwalger was selected at hooker on the same basis. There are more dynamic players than the Samoan veteran but he'll still be smashing clean-outs and driving valuable metres in the depths of winter and most importantly, he'll be bringing out the best in fellow hooker Hika Elliott.
Astute judgment is the hallmark of Rennie's coaching and it is best illustrated by his decision to make Craig Clarke co-captain. The big lock has been around for an age without ever hinting at much. The Crusaders let him go after three quiet games in 2006 and then the Hurricanes didn't fight hard to stop him being drafted to the Chiefs. Clarke has looked a different player in 2012. He's been commanding in the air; fiery and athletic in the loose and an inspiration to his team-mates.
"I think the leadership role sits well with him," says Rennie. "The leadership group is doing a good job and we have some honest reviews after every game. After we beat the Blues we agreed there were a lot of things we needed to do better and the acid came on from the senior guys. That's what you want to see."
The influence of assistant Tom Coventry has been obvious as well with the Chiefs forwards. Coventry was the man who drilled the Samoan forwards last year - turning them into one of the better pick-and-go packs at the World Cup and there would be little doubt that he and Rennie could form a successful All Black partnership when the time comes.
The same is true of Joseph and his assistant Simon Culhane. The Highlanders have built on the progress they made last season and Joseph, like Rennie, has shown that Midas selecting touch. No one had heard of Aaron Smith when Joseph picked him in his 2010 Maori squad. Jarrad Hoeata went from unwanted by the Chiefs to All Black after shifting to the Highlanders and Nick Crosswell looks far from the journeyman many thought he was.
The impressive thing about the Highlanders so far this season has been the invention and creativity of their backline, suggesting that Culhane is as neat a fit with Joseph as Coventry is with Rennie.
If the New Zealand Rugby Union can keep Blackadder and his assistant Daryl Gibson together as well, then come 2015, New Zealand will have a depth of coaching options it didn't at the end of last year.