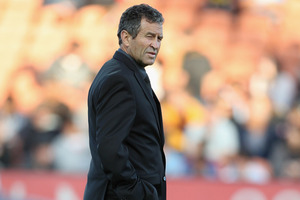 Ted is taking his talents to Argentina, Jake is looking at the England job and Cowboy has just signed on with Ulster.
The rugby coaching lark is always evolving, as we've seen this week with Graham Henry, Jake White and former Auckland coach Mark Anscombe revealing their intentions.
There's movement on the players-for-hire front too, with former All Black Brad Thorn shifting his carcass to a short deal with Leinster.
Chiefs assistant Wayne Smith is still in England's sights apparently, and the "Pat Lam to Bath" rumours rumble on, feeding off the Blues' miserable fortunes in the Super 15.
There are those - notably like Smith, who has invested more than a decade with the All Blacks - who struggle to unclip their emotional and intellectual ties to New Zealand.
Smith cites those ties, his obligations to the Chiefs and an uncertain job description as impediments in being linked to England.
However in 2001, not long after his initial All Black coaching term ended, he headed for a three-year term with the Northampton club.
It wasn't coaching England, but players in the Northampton squad and others he came into contact with would have received the best information Smith had about moulding a rugby team.
Those ideas would quickly have permeated the wider rugby scene and into the England squad.
But ideas date fast. Talking through that issue with Henry or his successor, Steve Hansen, it is very apparent how the game changes rapidly for top-level coaches even if it doesn't appear that way to most fans who rock up to weekly contests.
Smith is one of the more sensitive souls on the coaching scene, a man who walks and talks with his players and shares their emotions more than most.
He has made it plain that he wants to coach again, he wants to be top dog somewhere and that his international coaching life did not expire when the All Blacks clambered through the World Cup turmoil.
If that destination is England, it would be fascinating.
For so long we have watched the white shirts dish up some solid forward performances, perhaps tack on a useful halfback and a kicking five-eighths with little beyond that.
The lack of enterprise and backline skill got so bad at the recent World Cup that even their most cyclopean supporters and commentators bemoaned the dross.
Since England squeaked past the All Blacks in horrendous conditions at Wellington in 2003, the All Blacks have beaten them in nine straight tests. It's great for the All Blacks and the country, but that sort of superiority does little for the global growth of the sport.
If New Zealand's coaching pool can raise those levels and create broader, stronger competition, then dispersing that talent should be encouraged.
Robbie Deans, Warren Gatland, John Kirwan, Kieran Crowley, Steve McDowell, Isitolo Maka, Tom Coventry and Brian McLean were all involved coaching other teams at the World Cup.
If Smith hankers to coach test footy again, he should be encouraged to join those expats.