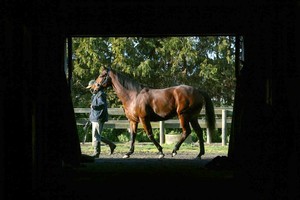 A bronze statue honouring Sunline, the world's highest-earning race mare of her time, has been put up at the racetrack where she is buried.
The sculpture will be unveiled tomorrow beside her grave, just outside the entrance to the stables at Ellerslie Racecourse, as part of the Auckland Cup Week 2012 festivities.
The New Zealand mare competed on 48 occasions for 32 wins, nine seconds and three thirds to earn more than $14.5 million over her career which ran from 1998 to 2002.
She was named New Zealand Horse of the Year on four occasions and was also the only horse to win the Australian Horse of the Year championship three times.
The 250kg bronze sculpture of the inaugural inductee into the New Zealand Racing Hall of Fame was created by Fiona McKee, daughter-in-law of Sunline's owner and trainer, Trevor McKee.
Mrs McKee said she came up with the idea for the work when the mare died in 2009 after a long battle with laminitis.
"I just wanted to give something back to the horse that had given so much to so many people and I'm an artist and that was my way of doing it," she said.
After two-and-a-half years in the making, Mrs McKee said she was glad that the sculpture would finally be on show.
She donated her time to the project and the materials were paid for by her husband's company.
The unveiling of Sunline's sculpture will take place during Stella Artois Auckland Cup Day, just before the running of the $50,000 Listed Nissan Sunline Vase.
This is Auckland Cup Week - New Zealand's largest, richest and most glamorous horse racing carnival.
Racing in Auckland has come a long way since the first race at Ellerslie on January 21, 1857, which was the Maiden Plate with prizemoney of £100. Since then it has slowly grown into the raceway it is today with the public grandstand opening in 1886, the first visit by the Queen in 1957 and installation of a new "photo-finish camera" in 1946 which captured the finish of the Mitchelson Cup on October 12.
The oak trees around the top parade ring were grown from Windsor Park acorns and were a gift from the Department of Internal Affairs.
Ellerslie was not always a racecourse - in June 1940 it was turned into a temporary military hospital.