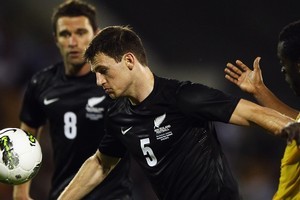 New Zealand Football won a last-minute game of brinksmanship with Ipswich over defender Tommy Smith.
Smith was one of New Zealand's bright spots from their 3-2 loss to Jamaica, and he carried that form into Ipswich's 3-0 win over Bristol City in the English Championship yesterday.
The 21-year-old played 90 minutes in both games, displaying no signs of injury, but Ipswich coach Paul Jewell revealed Smith was hampered by a knee complaint before the All Whites game, and the club were reluctant to release him.
According to Jewell, Smith received a knock to his knee last weekend, prompting the club to attempt to withdraw him from the New Zealand squad.
But New Zealand Football refused to yield to Ipswich's demand and, because the match was played in a designated Fifa window, NZF had regulations on their side. Fifa rules state, if Smith withdrew from the international, NZF could have enforced a five-day stand-down period in which Smith would have been unable to play for his club.
"We emailed the New Zealand doctor to say we were a bit concerned about him flying, what with swelling, but we got a short, sharp, swift email to say, 'make sure he's on the flight or we'll invoke the five-day rule'," Jewell said.
"If he hadn't have gone [NZF] would have stopped him being involved against Bristol. It's never ideal ... if it had been more serious we probably would have kept him here and [taken] the rap."
NZF chief executive Grant McKavanagh said his organisation made no explicit threats.
"We talked to Tommy about it, and it wasn't so much of a case of us invoking the five-day rule but we wanted him to come out.
"We understand the clubs' positions, they pay the players' wages. And we don't want to burn any bridges now with some important games down the line. But the five-day rule is there, the clubs know about that, and if it comes to it we're able to use it." APNZ
- APNZ