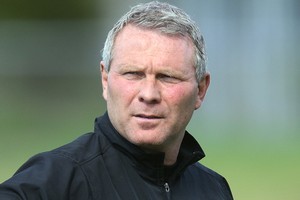 Ricki Herbert's young guns failed to shoot New Zealand to a win over Jamaica last night but they should get their shot at Olympic glory later in the year.
The starting XI for the 3-2 loss at Mt Smart Stadium offered a tantalising glimpse of the make-up of the Oly-Whites team in London, should they qualify, with the options up front particularly appealing.
The Olympic tournament is restricted to players aged 23 or under, meaning last night's potent front three of Chris Wood, Kosta Barbarouses and Marco Rojas all qualify, along with standout defender Tommy Smith. When you add in the three permitted overage players, the Oly-Whites are likely to resemble a shadow All Whites.
First, New Zealand have to win the Oceania qualification tournament to be played later this month in Taupo, without the services of their overseas professionals. If they do, a team boosted by several senior All Whites would be in a strong position to make a splash at two-week tournament starting in late July.
Ryan Nelsen has already declared his desire to play at his second Olympics and, if you add in West Ham defender Winston Reid, the Oly-Whites could feature the same back three which conceded only two goals at the 2010 World Cup. In goal, they can turn to Portland Timbers keeper Jake Gleeson, who was named to be Mark Paston's understudy against Jamaica but had to withdraw due to visa issues.
That leaves one overage spot for a midfielder - Michael McGlinchey, Jeremy Brockie or even veteran Simon Elliott spring to mind - with the rest of the squad made up from New Zealand's most promising local and United States-based collegiate talent.
At the 2008 Olympics, the Oly-Whites drew with hosts China, were thumped 5-0 by eventual bronze-medallists Brazil and were pipped 1-0 by Belgium with a spot in the quarter-finals on the line. That was New Zealand's first appearance at an Olympic tournament, and those results could very well be improved upon with a group of young players All Whites coach Ricki Herbert called unprecedented.
"I think some for the young boys we've got coming through now are going to be incredibly exciting for us,'' he said. "I'm not sure we've ever had an era like that.
"Potentially, I think it's got a little more than what we've had in the past.''
Herbert is tipped to assume the reins from under-23 coach Neil Emblem if the side qualify for the biggest show in sport. If that proves true, All Whites coach Herbert gave Oly-Whites coach Herbert a massive boost with his team selection against Jamaica.
Wood, Barbarouses and Rojas all linked well last night, playing a brand of pass-and-move football usually unassociated with Herbert's All Whites. Particularly in the first half, the three took turns dropping deep to receive the ball and playing in one another, before Wood and Rojas superbly swapped passes for the Bristol City striker to score New Zealand's first.
"It was good to see Woodsy score, and I thought at times Marco was quality,'' Herbert said. "Maybe we're starting to be a country that has a few alternatives in what we do in that front third of the pitch.''
Blooding those players and creating those alternatives now will only benefit the Oly-Whites at the Olympics, not to mention the senior side when the pivotal Oceania Nation's Cup - the first stage of qualification for the 2014 World Cup - is played in June.
"There's a good investment in it, I think it's really crucial that we do that,'' Herbert said.
"If we don't roll the dice with those young kids now we never will.''
- APNZ