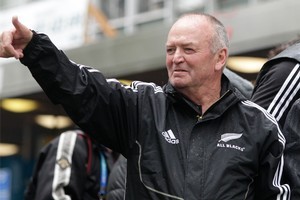 Sir Graham Henry's transformation from rugby coach to coach of the coaches is continuing apace with news he will work with some of the country's leading high performance coaches ahead of this year's London Olympic and Paralympic Games.
The Rugby World Cup-winning coach recently penned a deal to mentor top rugby coaches in this country and has now signed a two-year deal with High Performance Sport New Zealand (HPSNZ) to work on a part-time basis.
His first assignment is with the Yachting New Zealand Olympic coaches later this month.
"Sir Graham has 40 years' experience in coaching and he knows what it takes to lead players and support staff to be the best in the world," HPSNZ chief executive Alex Baumann said.
"He will work with a range of coaches, of both teams and individuals, to help them become effective leaders of their programmes and people, increasing their chance of achieving sustained success."
Baumann, former two-time Olympic gold medallist in swimming and head of Canada's Own The Podium high-performance sports programme, said coaching is the top priority for HPSNZ.
"If you have the best coaches in the world, then your athletes have a much better chance of performing at the highest level," he said. "Coaching is all about the athlete, and the right coaching is about making sure coaches deliver what's needed to maximise success for that athlete or team.
"HPSNZ is prioritising resources for the development, recruitment and retention of high performance coaches, because we believe the quality of our coaching can be an area where New Zealand stands out against the rest of the world."
Most of Henry's work with HPSNZ will have a longer-term focus. He will take on a mentoring role with targeted coaches and will work with HPSNZ to help national sport organisations build the leadership capability of their high-performance coaches.
"It's crucial for coaches to be effective leaders, so hopefully sharing the knowledge gained from my coaching experiences will help New Zealand's coaches provide the leadership and coaching their athletes need," Henry said.

- APNZ