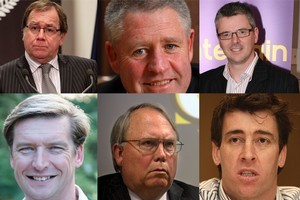 It's Olympic year, time rugby took a back seat?
Nah, not really. For a few weeks in July and September, London and medal counts will dominate discourse, but there is plenty of goodwill left from October 23 to keep rugby in the headlines for the rest of the year.
The Tri-Nations is no more and won't be missed, and this year we'll see what Argentina can offer the Rugby Championship. The hope is they will be competitive right away.
What do you think of our Herald sport power brokers list? Leave your comments at the end of the story.
Off the field it is even more intriguing. Can the New Zealand Rugby Union attract any new capital with, on the surface, an unattractive licensing agreement? Can they keep Sonny Bill Williams in the code?
Do they really want to?
New Zealand Cricket lost a golden opportunity to capitalise on the high of a rare test win against Australia by having no inbound tours over the holiday period, then seeing their domestic showpiece, the HRV Cup, ruined by poor weather and ordinary crowds. With partial privatisation on the agenda, it's a big year for them off the field, too.
Netball is also contemplating massive structural change, while the league season will again revolve around a small pocket of Penrose.
So who do these sports look to for guidance? Who'll take the pats on the back for a good haul in London? Who'll be thrown under a double-decker bus if it all goes wrong?
As we've noted every year, they're mainly white, mainly male, and mainly middle-aged, putting them more and more out of sync with the sporting landscape in New Zealand with every passing year.
We select only those who have power and influence here, ruling out the likes of David Howman and Barry Maister, who have lofty positions in global organisations.
These are your 2012 power brokers.
1. Peter Miskimmin -Sport NZ CEO
Last year: 5
The former New Zealand hockey representative has a fair chunk of the sporting power in this country - in Olympic year it seems even greater.
The way the high-performance model is set up in New Zealand, virtually every national sporting organisation (NSO) outside of the major codes is beholden to Sport NZ (previously Sparc).
There is a growing number of voices who believe this is flawed philosophically and on a practical level as well. They would like to see the NSOs have more autonomy and Sport NZ to act as a services arm and no more.
Instead the NSOs spend the bulk of their year trying to achieve prescribed Sport NZ targets and the rest praying that they will get their reward in the form of a cheque. It's Miskimmin's name on the bottom of those cheques.
Sport NZ once publicly stated how many medals they expected athletes to bring home from Commonwealth and Olympic Games, but that went out the window when they embarrassingly under-achieved in Melbourne '06 and were forced to concede their methodology was flawed.
They know how many they are capable of getting in London, even if they don't make it explicitly known. But if it is less than 10, there are going to be some nervous NSOs out there.
2. Steve Tew -NZRU CEO
Last year: 8
We can all agree that when it came to the really important stuff, the country's largest NSO got it right last year. They reaped the benefits of retaining Graham Henry, a decision that came under much scrutiny when it was made more than four years ago.
The NZRU has also done a nice job of retaining the bulk of our talent - no easy feat when there are bigger paypackets to be gained elsewhere. For that reason the likes of Neil Sorensen (boss of professional rugby) and Chris Lendrum (contracts manager) are almost as pivotal to the organisation as Tew, but he remains the face of the organisation so gets the No 2 guernsey.
The NZRU remained stubbornly single-minded on some issues, pragmatically flexible on others. They know they will never please everybody and subsequently don't make much of an effort to.
They have, however, made a botched job of selling their vision for a licensee arrangement in their Super 15 franchises. To the layman, it looks like they're trying to attract sugar daddies with the promise of nothing while alienating the four bodies who are most likely to be interested - the four major unions.
Times are tough and solutions are not easy, but the NZRU cannot keep eating into its reserves as it has been of late. It needs fresh capital and it's unwilling to relinquish any control.
How Tew manages to walk the tightrope between those two needs will be one of the more intriguing balancing acts of the year.
With brand All Blacks© at an all-time high, at least he's coming from a position of strength.
3. John Fellet/Richard Last - Sky TV CEO/director of sports content
Last year: 6
Nothing has changed from last year in that Sky still run the show (so much so that they can convince the man at No 2 on the list to come out and say the public actually prefer night rugby and expect us to believe it).
Last year we said it was likely to be the last time the ASB Classic and the Heineken Open were screened on state TV and that proved accurate. Sky's first fortnight at Stanley St was an honest attempt, with room for improvement, but that's by the by.
Sky's takeover of New Zealand continues apace. If you can sell a package that involves a rugby player fighting an obese no-name American in a low-rent version of boxing, you can probably sell anything.
Last is regarded as the table-thumper of the operation, driving the odd sports administrator to drink with his negotiating style, while Fellet is the friendly face who signs everything off. These things tend to grow in the retelling, but there is probably an element of truth there.
The venerable Kevin Cameron remains a large presence at Panorama Rd, too, though there are conflicting opinions as to how pervasive his influence is.
4. Alex Baumann - High Performance Sport NZ CEO
Last year: new entry
In an Olympic year, the Canadian will have no opportunity to slowly slide his slippers under the desk.
He has the pedigree. A two-time Olympic gold medallist in swimming and head of Canada's Own The Podium high-performance sports programme, Baumann comes with the right credentials and a flinty edge.
"The challenge is making sure you don't adopt a consensus approach, that everybody's happy," he told Canada's The Star. "In the end you take everybody's input but you have to make a decision and sometimes that decision is unpopular. But that's what leadership is."
Continuing on his theme, he said: "I don't have a lot of time for complacency and things like that. We have to get away from this entitlement, that athletes are entitled to these things. You have to earn it. There's no substitute for hard work and athletes need to understand that."
Swimmers, take note.
5. Murray McCully - Minister for Sport and Recreation
Last year: 1
He's already dipped into the taxpayer pocket for high-performance sport, the World Cup is in the rearview mirror and, frankly, McCully seems a lot more interested in his glamour foreign affairs portfolio at the moment.
Come the Olympics, however, and the spectre of McCully will loom.
The change to the mechanisms around delivery of high-performance sports programmes will be more keenly felt at Rio 2016 than London, but still there's an onus on bang for buck.
"High Performance Sport New Zealand will have an annual spend of $60 million, up on $40 million a year previously, and the government has committed just under $32 million to develop world-class training and competition facilities in partnerships with the private sector," McCully said on opening the National Training Centre for high-performance athletes at the Millennium Institute late last year.
"Our belief is that this investment in facilities coupled with a dedicated high-performance system ... will bring winning results."
If they don't, there will be a minister training his crosshairs on a few people.
6. Rob Nichol/Heath Mills - Head of NZ rugby and cricket Players' Associations, Federation of Athletes' founders
Last year: Nichol 7, Mills 16
Their lofty position on our list will be anathema to many who feel the decline and fall of modern civilisation started with player empowerment.
There is no doubt their influence continues to grow - you could make a decent argument that this two-headed Hydra should be higher on the list - but that doesn't mean it is insidious.
NSOs like swimming might curse their existence but the big ones, namely cricket and rugby, have learned to live in near peaceful co-existence with their one time nemeses. If you asked the likes of Steve Tew and Martin Snedden, who have both had occasion to butt heads with Nichol-Mills, they would concede that the advent of players' associations have largely been positive.
Where Nichol and Mills need to be careful is their theories for athlete-driven programmes can sound like dogma that refuses to take into account the existing constraints and difficulties of trying to run high-performance sport in a tiny corner of the globe.
No matter how sound the message is, agitating can be a turn-off for the layman and you suspect this worries them more than they'd admit.
7. Mike Stanley - NZOC president, Millennium Institute CEO, Academy of Sport board
Last year: 12
He retains a relatively low profile for a man with his position(s) and influence.
Stanley sets the standards for Olympic selection and is ultimately responsible for the team in London.
As CEO of the Millennium Institute he's responsible for the delivery of facilities for High Performance Sport NZ. As an Academy of Sport board member he has a big influence in how sport is financed, structured and delivered.
Once regarded as fiercely ambitious, which in a funny way jars with his reputation as an impeccably honest straight-shooter, there seems to be no obvious next step for Stanley without a move to Wellington.
With McCully on his doorstep in Auckland's East Coast Bays, he doesn't have to go far for a chat.
8. Essentially Group - Agents
Last year: 10
Essentially they are more than player agents, but the number you're drawn to is that about 75 per cent of the All Black World Cup-winning squad, including coaches, were on their books.
That's an awful lot of talent to manipulate and that's what critics of their business would describe them as - arch manipulators.
Still, they were key players in the retention of Dan Carter and Richie McCaw and in Warren Alcock, Simon Porter and David Jones, they have some of the most respected player managers in the business.
There's more to the business than Jerry Maguire and "Show Me the Money". They stitched together the Investec Super 15 and Tri-Nations deal, as well as connecting Specsavers with cricket (a forerunner perhaps to a greater presence in the summer sport), while winning the talent and production tenders for all corporate hospitality events and the World Cup.
Essentially they were also at the forefront of organisation for the Crusaders match against the Sharks at Twickenham.
Pulling the strands together from their Parnell base is Lou Thompson.
9. Darren Shand - All Blacks manager
Last year: 18
He continues to preside over the most successful high-performance programme in the country and will be more important than ever in 2012 as a new coaching panel is bedded in.
There was some doubt as to whether Shand would continue post-World Cup with whispers from well-placed sources that the prospect of "managing" Steve Hansen as a head coach was a challenge too tall. Hansen has obviously managed to convince him that he has the right stuff.
Shand's credentials are impeccable and you have to wonder whether Sport NZ would have been better off turning to a man who has proven he can get the job done using largely New Zealand intellectual property, rather than turning to a Canadian.
10. Richie McCaw - All Black captain
Last year: 9
He could walk into any restaurant in the country, order the filet mignon, eat the thing and walk out without paying, and the restaurateur would think: "That Richie, he's such a good bugger."
That is power.
Which is not to say McCaw would abuse it - just that he could.
With several experienced All Blacks moving on, McCaw's steadying hand will be more valuable than ever and it will be fascinating to see how his game adapts to the ageing process.
If you thought the year after the year to end all rugby years would provide a bit of relief, you haven't lived here long. An expanded Super 15 season and the advent of the Rugby Championship will ensure rugby - along with McCaw - stays in the headlines.
11. Paul Collins - Sport NZ chairman, Hurricanes chairman, Wellington Regional Stadium Trust chairman
Last year: 4
He's still powerful and influential, he's got the titles to prove it, but he takes a tumble this year because of the Hurricanes' implosion, some of the blame for which has to be laid at his door.
He was the head of the board that appointed Mark Hammett as coach and gave him a mandate. When Hammett started his clear-out, Collins should have known that it would be unpopular and controversial.
However, when Hammett looked over his shoulder to see where his support was looming, the impression left was of his bosses bailing out faster than an Italian cruise ship captain.
Collins is known as a behind-the-scenes guy with a massive capacity for processing numbers. That's all well and good, but sometimes you need to be a face as well.
12. Kereyn Smith - NZOC secretary-general
Last year: New entry
The South Islander almost bagged a spot on the list last year but it's the same old story: in odd numbered years the NZOC is fighting for relevancy.
This is not an odd numbered year. It's a multiple of four, which equals big.
Smith has boldly stated New Zealand will win more medals than the nine earned in Beijing. They probably will, but it's nice to get it from the secretary-general's mouth.
Predecessor Barry Maister, now at the IOC, was quite spiky about the non-performance of some sports post-Beijing, particularly the expensively assembled team sports. It will be interesting to see whether Smith heads down that route, if there are similar misadventures post-London.
She's also going to have a role to play in the selection of the next chef de mission, with Dave Currie retiring at the end of the London Games. It's an important role, one that needs to be more about performance, less about "zhuzhing" up their enclave at the Olympic Village.
13. Raelene Castle - Netball NZ CEO
Last year: 14
This will be a big test of Castle's leadership and her ability to affect change in a sport that is crying our for it. Castle is plotting a major overhaul to New Zealand netball's national structure, with plans to abolish the 12 regional offices and move to a zone-based structure.
The proposal will be put to a vote in the next month. To go ahead with the changes Netball New Zealand will require the support of two-thirds of its members.
Over the past three months, Castle has worked hard to get the buy-in from the netball public. If she gets the numbers, expect her to push the changes through in the latter half of the year.
If she doesn't get buy-in, it would be no surprise to see her sail off to new adventures.
- Dana Johannsen
14. Sir John Wells - VOR Auckland Stopover chairman, triathlon bigwig, lobbyist
Last year: New entry
Sir John was an omission from last year's list, based entirely on his standing down as Sport NZ chairman. Bad mistake according to those in the know.
Sir John's is a handshake it's still worth seeking. His is a statesmanlike presence that is highly sought after around boardroom tables.
We're told Tom Mayo owes his presence at the head of the Volvo stopover to Wells. When red flags were going up after the disappointing financial performance of the World Rowing Champs, Wells still saw a talented operator let down by circumstances and those around him.
We'll soon see whether his faith was justified.
15. David White - NZ Cricket CEO
Last year: New entry
When White's name was mentioned to somebody who had worked alongside him in the past, the first thing they said was that he would not care whose toes he trod on to get cricket to the point he wanted it.
If it's an endorsement of his appointment to replace Justin Vaughan at the helm of NZC, it's an ambiguous one.
White comes in at a time when the sport is trying to come to terms with the lightning changes brought about by T20. It is fair to say NZC has been caught floating in the wind, with the HRV Cup paling in comparison with T20 ventures set up in India, Australia, England, South Africa, the West Indies and even Bangladesh.
White must move quickly; whether such a conservative board allows him to remains to be seen.
16. Steve Hansen - All Blacks coach
Last year: New entry
He's got one of the biggest jobs in the country, yet few would envy Hansen's task.
With an unproven coaching team and an All Black side shorn of some significant players and coaches, Hansen has a job on his hands keeping them at the top of the rugby tree. There's also the small fact that his predecessor won the World Cup, so anything less than perfection would seem like a retrograde step.
Hansen carries himself with the air of a self-made man, but he's going to be relying an awful lot on Nos 9 and 10 (Shand and McCaw) while he figures it all out.
17. Chris Moller - NZ Cricket chair
Last year: 11
There are a few who believe Sir John Hansen holds all the power at NZC board level, but Moller is the one in the chair.
It's hard to say what impact Moller has had on the direction of NZC because, in this time of great flux in the sport, little ol' NZ seems to be directed by everyone else.
It's a big year coming up. Fundamental changes must be made. Does NZC have the wherewithal to make them and does Moller have the courage to sign off on them?
18. Grant Dalton - Team NZ managing director
Last year: New entry
Anybody who can convince the Government to part with $36 million at a time when it was already scraping the bottom of the bank vault deserves a place on the power list.
Dalton has overseen an expansion of Team NZ's operations, moving away from being purely an America's Cup syndicate to more of a franchise operation with a stable of boats racing under the Team NZ banner. After a couple of years in the doldrums, he's made them relevant again.
While Camper, competing in the Volvo Ocean Race, has failed to gain much traction with the New Zealand public, better results and the Auckland stopover next month - which Dalton played a key role in securing - should increase interest.
Between the two campaigns, Dalton has had to come up with an estimated $200 million of funding.
A huge chunk of that money has been delivered back into the New Zealand marine industry. It has built two prototype SL33 yachts for development and over the next 18 months Cookson boatyards will be kept busy building two AC72s - one of which will be sailed in next year's America's Cup. Dana Johannsen
19. Hilary Poole - Hockey NZ CEO
Last year: New entry
Granted, it's a minority sport with linoleum rather than Axminster carpet-type budgets.
That said, Poole has done such a good job of moving hockey away from its jobs-for-the-boys recent past and making it competitive both on and off the field (though Rosedale Park is not much of an advertisement for the sport, we're afraid).
Hockey in New Zealand is still a sardine, but it's a sardine that thinks it's a tuna. When Poole has had enough, there should be plenty of sports lining up to use her expertise.
20. Sir Patrick Hogan - Racing and bloodstock identity
Last year: 21
New Zealand racing lacks a dominant administrator, due mainly to a high turnover of CEO types with a lack of inherent racing knowledge.
That vacuum means Hogan's experience and financial clout give him huge influence over breeders and trainers.
Racing is not a one-man band, NZ Bloodstock owner Peter Vela also wields significant clout, but Hogan's is the presence without whom the sport would struggle the most.
21. Ricki Herbert - Football manager
Last year: New entry
He slipped off the list last year after being placed at No 13 in World Cup year. What he's done in the interim is quite extraordinary. Not in terms of coaching, although lifting the Phoenix's fortunes has been impressive, but in terms of power-grabbing.
Football in New Zealand has become Herbert's fiefdom. Nowhere is this better exemplified than the fact he will waltz in and take over the Olympic team after Neil Emblen guides them through qualifying next month. They will sit alongside his Phoenix and All Whites portfolios and he has set himself up to take over as director of football at the Wellington club in the near future.
Is it healthy having one man with an iron grip over the upper echelons of professional football in this country? Probably not, but what are you going to do about it?
22. Dick Tonks - Rowing NZ high-performance head coach
Last year: New entry
Unless it's with one of his rowers, conversations with Richard Tonks tend to be short. In years that are multiples of four, even shorter.
Still, you can envisage a conversation going something like this*.
Tonks: "Alan [Cotter, high-performance manager], I need two new boats."
Cotter: "Are you sure Dick, they're very ... "
Tonks: "I need them."
Cotter: "Okay."
* While the characters in this dialogue are real, the conversation is fictitious.
23. Sonny Bill Williams - All Black, boxer
Last year: 19
There is still an SBW phenomenon out there, but there's also SBW fatigue.
The saga over whether he would re-sign with the NZRU was protracted and, by the end, boring. That's the danger. SBW means different things to different people, but "boring" is not a word often associated with him.
When he's playing, he's still an excitement machine (albeit flawed) capable of things few others are. That's what people will always pay money to see, not the extraneous stuff.
It seems his management - and when you read Sonny Bill Williams on this list, you're essentially reading Khoder Nasser - has positioned him for a move to the NRL next year. They might make light of it, but that will hurt NZ rugby.
The shame about the Clarence Tillman boxing debacle is not that the fight only lasted a round, but that it will just encourage SBW's belief that he is some modern day Jim Thorpe, capable of being a world-beater across a range of sports.
24. Owen G. Glenn - Philanthropist
Last year: New entry
He has deep pockets filled with cash. He likes to share it.
Number 19 recognised this and the result was the Owen G. Glenn Champions Trophy, brought to you from a stadium right next to a sewage treatment plant.
There might be others who give just as generously - The Warehouse's Stephen Tindall is a name that crops up - but none will do so with such obvious glee.
If you've got a bit of sporting profile and need a few readies, it wouldn't hurt to ask.
25. Valerie Adams - Shot putter
Last year: New entry
We don't think anyone has grasped just how pivotal a figure Adams could be in the history of New Zealand sport.
Maybe she has no idea herself. If her favouritism is justified, she will have in her possession by the end of the year a second Olympic gold medal and will start setting her sights on a third.
Get her in front of the kids. Show her the money. Adams and wunderkind Jacko Gill could make New Zealand the shot-putting capital of the universe.
RECENTLY DEPARTED
Martin Snedden
Last year: 2
His job is done, and a fine job it was too.
Graham Henry
Last year: 3
Likewise.
Marty Toomey
Last year: 13
From the hurly burly of Sport NZ to the relative obscurity of Winter Sports NZ.
Stephen Kearney
Last year: 15
2011 was not a vintage year at either club or country level.
Daniel Vettori
Last year: 17
Still on the back seat of the bus, but without the letter (c) or a selectorial role.
Justin Vaughan
Last year: 20
Leaves NZC for the less tumultuous role of head of clinical operations with Southern Cross Healthcare.
Peter Dale
Last year: 22
By rights, he should still be on here as he is one of the key figures that grease the sporting wheels behind the scenes. But we can only pick 25.