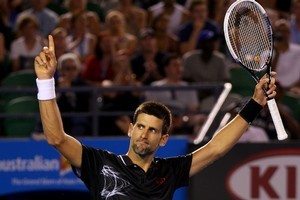 Lleyton Hewitt's run through the Australian Open is over, but not without giving world No.1 Novak Djokovic a post-midnight wake-up call.
Hewitt was blown away by Djokovic in the opening two sets on Rod Laver Arena, before fighting back to win the third.
But defending champion Djokovic raised his game further to eventually win 6-1 6-3 4-6 6-3 in two hours and 56 minutes to book a quarter-final berth.
Hewitt had no early answers to the Serbian star's dominance, Djokovic starting late on Monday night as he had in his opening three matches, where he dropped just 10 games.
Two sets up, Djokovic raced away to a 3-0 third set lead and Hewitt's obituary was being written.
But the 30-year-old, who entered the tournament with injury concerns and little recent tennis, showed remarkable resolve; his heart pinned to his sleeve, Australia's hopes on his shoulders.
This has been Hewitt's default position at the Australian Open for a decade-and-a-half and it wasn't about to change at two sets down and past midnight local time.
He won six of the next seven games, serving out the set to take it into a fourth.
After a fascinating struggle through the early part of the set, Djokovic eventually broke Hewitt to go 4-2 up and eventually closed out the match just after 1am Melbourne time).
Djokovic will now play Spaniard David Ferrer after the fifth seed brushed aside Frenchman Richard Gasquet in straight sets on Monday.
Hewitt was the last remaining Australian in the singles draw.
It is the sixth time Hewitt has bowed out at the fourth-round stage of the Open - his only trip beyond that being his losing final appearance in 2005 when beaten by Marat Safin.
As to whether it will be his last time at Melbourne Park, Hewitt wasn't saying.
"The last few months I have been trying to focus on getting as much out of myself as possible - I haven't even thought about it," Hewitt said when asked about his future and expectations for the year.
"Considering where I was three or four weeks ago, it's been a pretty fair effort (at the Open)."
Djokovic paid tribute to Hewitt's gutsy comeback.
"This is something you expect from Lleyton, who is well known for his fighting spirit," Djokovic said.
- AAP