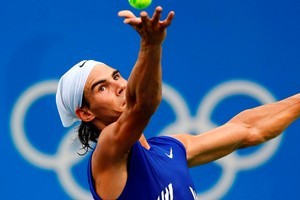 The men's competition shapes as a cracker; the women's as a lacker -a lack of a real contest - and Paul Lewis runs the rule over the season's first tennis major
There are no certainties in sport but Novak Djokovic appears the surest of sure things at the Australia Open tennis, which begins tomorrow. But if the men's competition has a clear favourite and some interesting challengers, the women's field looks drab and uncertain - interesting only because of its evenness. However, it is an evenness born of negatives.
While the men's competition is all about who will show up on the day, the women's seems more to be about who won't show up at all. Already, Venus Williams is gone, courtesy of the same energy-sucking Sjogren's Syndrome that ruled her out of last week's ASB Classic in Auckland. Her sister Serena rolled her ankle badly in Brisbane and, while she will play, there must be some doubt about her having the ability to get to the final - with six matches to get there.
Similarly Kim Clijsters, who pulled out of the Brisbane buildup tournament citing a hip injury, has had shoulder, wrist, ankle, abdominal and now a hip injury in recent times. Clijsters has played little tennis as a result and this is also being spoken of as her farewell season before she retires again to have her second child.
Again, this could go two ways - Clijster's farewell in a country at a tournament she loves could inspire her or the lack of top tennis could tell. That takes us to the two top seeds - world No 1 Caroline Wozniacki and No 2 Petra Kvitova, last year's Wimbledon champion. Wozniacki's woes are well known-she is under the constant pressure of being a world No 1 that few believe is deserved as she has still to win a grand slam. Wozniacki also has a new coach - which can work both ways; good or bad; and she has been accused of playing too much tennis to support h e r No 1 ranking instead of setting her cap at grand slam titles.
She also has a wrist injury, goes missing on many of the big points and seems almost reluctant, at times, to impose herself. This, however, shapes as her best chance yet to snare a major. Kvitova shapes as a likely champion but she suffered a dip in form after Wimbledon and needs to regain that mental strength if she is to do well here.
The other top seeds, Victoria Azarenka (Belarus - 3rd seed) and Maria Sharapova (4) also have consistency problems and Sharapova - though she likes this tournament - may be heading over the crest of the hill these days. Australia's Samantha Stosur is the big local hope but she was handed a hiding by her old nemesis, Italy's Francesca Schiavone, in a lead-up tournament that appeared to set her back somewhat. China's Li Na (5) and Peng Shuai (17) are playing consistently and are always hard to dislodge but, other than Schiavone, France's Marion Bartoli and Poland's Agnieszka Radwanska, there are few from outside the top seedings who appeal as upset winners.
One possibility is Estonia's Kaia Kanepi (aged 26, seeded 26), who thrashed the well-performed Daniela Hantuchova (Slovakia) to win the Brisbane International 6-2 6-1 - winning all but one point in the first four games of the second set. Hantuchova had a dream run to the final when 13-time grand slam winner Serena Williams withdrew from their scheduled quarter-final after injuring her left ankle and Australian Open champion Clijsters retired in the second set of their semifinal with her hip strain. Kanepi had lost all three previous matches against Hantuchova but is on a 13-3 run since the US Open, including wins in Brisbane against second-seeded Andrea Petkovic of Germany and third-seeded Schiavone, the 2010 French Open champion.
She has also beaten the powerful Anastasia Pavlyuchenkova of Russia (seeded 16, still only 20) who is herself a dangerous lower seed in this competition. Primarily a baseliner and a clay court specialist, the Russian has been steadily improving in grand slam hardcourt events. "I haven't really realised how well I have played, what I have achieved and who I have beaten," said Kanepi, who did not concede a break point in her last two matches. "It doesn't happen too often that I win matches with that score. It was my week."
You could be forgiven for thinking the men's competition is going the same way. Other than a dominant-looking Novak Djokovic, the 'big four' (Andy Murray, Rafael Nadal and Roger Federer) do not look likely winners although, again, there are no certainties in sport. As the defending champion, Djokovic is favoured to win again, as everyone else is finding it difficult to beat him.
If the big Serbian can start 2012 as he did 2011, his dominance could extend to a second year and could mean second-place battles for everyone else. Djokovic won the Australian Open,Wimbledon and the US Open, winning 41 consecutive matches and seven straight tournaments before finally falling to Federer in the French Open semifinals. Djokovic finished the year with an incredible 70-6 singles match record.
Federer also has a bad back (which he says has responded well to treatment) but faces eternal pressure of speculation from fans and media that he too is beginning the run down the other side of the hill. He is much better than that; remains the best touch player in the world on his day; and has the ability to set himself for big tournaments. He won this one two years ago and could do so again.
Nadal has been bothered by shoulder injuries and, for him, made the astonishing admission that he does not believe he will win the Australian Open, as he continues to nurse his way back to top form. Nadal finished the 2011 season feeling mentally and physically exhausted. On top of that, he developed a sore left shoulder which continues to affect his game. "I know I am working well, with a much more positive attitude than I had during the second half of last season, especially in the final stretch," Nadal said recently.
"I see myself capable of having a good tournament but you never know. I am happy with the level of my game, of how I am doing things and I think I am sowing seeds that will bear fruit. But maybe not in Australia." Murray perhaps has the best chance of unseating Djokovic after losing to him in the final last year. His new pairing with coach Ivan Lendl seems to be working well and Murray was impressive in dismantling Ukrainian up-and comer Alexandr Dolgopolov (13th seed here) to win the Brisbane tournament. However, unlike the women, the men's draw contains some real dangers. Top among these is Juan Martin del Potro, himself on the comeback trail from injury and a player for whom the big four have few fears.
With his tremendous reach and all-round game, he is a match for anyone and is seeded 11th. Mardy Fish (8th seed) can also beat anyone on his day but lost yesterday's Kooyong Classic final to Australian 19-year-old wunderkind Bernard Tomic - another threat here. Fifth-seeded Jo Wilfried- Tsonga is coming to his favourite tournament with winning form; a good sign for the Frenchman, a confidence player.
However, there are some real roughies who could shape the men's draw. The 23rd seed, Milos Raonic, brings a game - and a serve - that seems tailor-made for this championship. Standing 1.98m and sending down a booming serve of 151 miles per hour (243km/h), the 21-year-old Raonic will be a force if he can land that cannonball serve.
The powerful Canadian cracked 35 aces in the final to win his second career title in Chennai recently and became the first man to win an ATP title without surrendering serve since Federer at Halle in 2008. Already Raonic has names such as Fernando Verdasco (twice), James Blake, Gael Monfils and Fish on his "beaten" list and a sour Verdasco said after one loss, remarking on Raonic's serve: "It's not even tennis."
Raonic's return of serve and a tendency to impatience may undo him at this level but he seems sure to take some scalps. He made it to the fourth round in this event last year. One to watch outside the seedings is world No 76 Grigor Dimitrov. Still only 20 and fresh out of junior ranks, Dimitrov has been prematurely called "the next Federer" although he unarguably has skill and touch reminiscent of the Swiss in his play, particularly his backhand ground strokes. He may not appeal as the winner, as he is still struggling against the 'big boys', but will be one to watch.