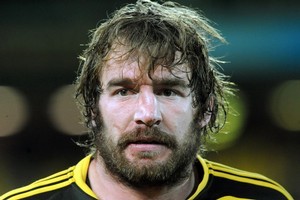 World champion All Black hooker Andrew Hore has always been a good southern man at heart - trouble is he has been plying his trade elsewhere.
Now he can look his mates in the eye again.
The Hurricanes cut loose the experienced rake at the end of last season after 10 years service. Hore is a little resentful he was not able to leave on his own terms. But he has signed a one-year deal with the Highlanders and is much closer to the Maniototo where he owns a farm.
"It has all worked out pretty well," said Hore.
"I have made a lot of good friends up there ... but there are no real regrets coming back here. Being a Highlander is something special and all my mates are ... supporters.
"I guess it sunk in when I realised I could just get in the car and drive to work rather than say goodbye to everyone, fill the suitcase up and head to Wellington.
"It is a new challenge with a new team and obviously we've got a new stadium. And I suppose I'll be able to go to my local pub and talk about how the Highlanders are going to go instead of getting grief about being a Hurricane."
"It is the breath of fresh air you need after reaching one [of] your major goals, which was the World Cup."
And how about that World Cup. Did the celebrations ever stop?
"We had a fairly solid week after the final. It started in Auckland and I hung out with Tony Woodcock and a few of the boys. Then it was back to the farm to get re-grounded."
Working around the farm has kept Hore in good shape.
The 33-year-old could have been be forgiven if he'd decided to go abroad and cash in on his status as a world champion. A benefit year or two in France or Japan would certainly help the bank balance.
But Hore is keen to remain in New Zealand. He is committed to cementing his All Blacks' spot and earning the right to run on for the Highlanders.
And he reckons he has joined a side on the up. They recovered some ground last year after a few lean seasons and there is a sense of optimism about the Jamie Joseph-led side.
"There is definitely a bit of a buzz here. If you could pick a time to come to the Highlanders, this would be it. Jamie has got a great bunch of guys and he has got some good coaches around him. They did a really good job last year and got some belief."
- OTAGO DAILY TIMES