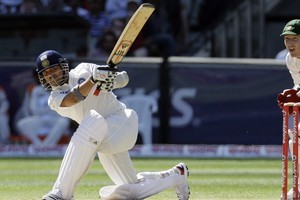 Would that all the Black Caps' outings were as exhilarating as that last win over the Australians in Hobart. With that in mind, Paul Lewis casts his mind over what he'd really like to see in international cricket this year.
1. Make the UDRS compulsory
Even though the International Cricket Council are showing all the spine of a glow worm on this issue, there is little doubt most of the cricketing world outside India wants the review system to apply to all tests. The Indians have successfully managed to get the ICC to maintain a weak-kneed stance on the issue (both sides must agree for the UDRS to be used; amounting to the power of veto by the Indians).
There it sits - with umpires routinely embarrassed by TV commentators who have all the technology at their disposal; providing a situation where the fans know what is going on but the world's best players don't.
Here's what we'd like to see this year: The ICC mandates the use of the UDRS and bans India from tests until they comply.
Won't happen, of course. Something to do with money, power and an international body not really in control of its own sport.
2. Jesse Ryder loses weight and gets fit
We could award Ryder the Shane Bond Trophy for Most Injuries (previous holder: Jacob Oram) but what we'd really like to see is the big Wellington bloke shed some more kilos and do a Shane Warne. Ryder's comfortable upholstery does him no good when fans cast jaundiced eyes over it after his latest injury. His poor form with the bat is also no recommendation. A player of undoubted natural talent, he is also a player of undoubted slow metabolism and may be slow to learn key lessons (like: injuries happen more often when you are not fit/carrying too much weight/relying too much on natural talent).
Many of us like Ryder because he's a bit of a Jack The Lad - the pie-eating, beer-swilling cricketer who can carry an Oompa Loompa tied round his waist to the crease and still score runs. Or can he? If New Zealand want to field four fast bowlers again, as they did in that epic win in Hobart, then Ryder's position in that top six batting order is most under threat.
3. New Zealand fields four quicks again
Talking about four seamers, does anybody else think the Black Caps looked all the better for it? Having Chris Martin, Doug Bracewell, Trent Boult and Tim Southee to rotate gave the New Zealand bowlers some variety and breathing space. It allowed captain Ross Taylor to give them adequate spells so that they were operating at full throttle when they returned.
That team structure appeals, especially when you understand that the currently injured Hamish Bennett, the soon-to-be-Black Cap Neil Wagner is available soon, Kyle Mills is on the comeback trail and that Daniel Vettori was not even playing at Hobart - all will be demanding a bowling place soon.
4. Brendon McCullum keeps wicket again
Of course, the biggest fly in the ointment to the above scenario is that Brendon McCullum has to fire as an opener. If not, many fans suggest he might want to bat down the order and pick up the wicketkeeping gloves again. All right, all right - we know it won't happen but that doesn't stop us wishing for it. There is no doubt about it - McCullum's decision to give up the gloves at test level completely altered the structure of the New Zealand batting. All of a sudden, a place had to be found for a wicketkeeper and the Black Caps have not yet managed to find one who can even remotely approach McCullum's ability with the bat down the order.
That means that, if McCullum fails at the top end, New Zealand have a double whammy to contend with. It makes it even harder to come up with six reliable bats who can shore up the top order and lengthens the New Zealand tail.
We have tried for years three seamers and a spinner - with little success outside the Hadlee years - and it may be time to change tack.
But the question remains: what do you do with a problem like McCullum? He can crash out the runs at the top on his day, a la Virender Sehwag but, unlike Sehwag, he has far fewer test runs and less credibility for his batting approach. If he fails, New Zealand face the twin perils of being McCullum's wicket down for not many runs, scored quickly - which gives the opposition plenty of time to pick off our bowlers. It also raises the prospect of New Zealand's remaining batsmen being mentally undone by McCullum's cheap departure and the resulting pressure on them. The only solution seems to be for McCullum to score runs. Lots of them.
5. Shane Warne puts on weight and stops looking like a Madame Tussaud's exhibit
How do you tell Shane Warne from his waxwork character at Madame Tussaud's in London? Hold out a mince and cheese pie and HP sauce - and the one that makes a move for it is the waxwork. The great Warnie - the best bowler these old eyes have ever seen - has stoutly (geddit?) denied that he has had plastic surgery or botox and puts his waxy appearance down to exercise and diet.
Certainly Warnie casts a smaller shadow these days and choruses of "Who ate all the pies?" will have to be directed at someone else, as he would not sully his gleaming new choppers with a mere pie. ABC commentator Kerry O'Keefe even speculated, during a stoppage for bad light in the test series against New Zealand, that Warnie's pearly whites would light up the ground and allow play to continue to midnight.
That leads to what we'd really like to see in 2012 - Warnie making a comeback to test cricket. Even at 40, he still has genius in his fingers - his publicly predicted taking of Brendon McCullum's wicket during the recent Big Bash was brilliantly conceived and executed. He is not eating pies these days and he's not bowling them either. We know he's said it won't happen, but ... we can hope, can't we?
6. Tarun Nethula gets a go
With Dan Vettori heading, if not into his twilight years as an international cricketer, then certainly into a dusk or two, New Zealand cricket needs to find a new spinner. Nethula is hardly new - he's 28 and has been around a while without really threatening to break into international ranks as a legspinner. However, having left Auckland and headed to Central Districts to get more bowling time, Nethula is starting to get himself noticed. New Zealand has only rarely fielded legspinners and then with limited success but it may be he is beginning to exert the control that leggies need at top level. He took career-best figures in a six-wicket haul against Otago in November and, in a recent HRV Cup Twenty20 match, took a wicket and held the Wellington batsmen to just 16 runs as they tried to attack his bowling over four overs. Nethula gets spin and shuttles his deliveries through at a reasonable pace and we'd like to see him tried at international level this year.
7. Iain O'Brien returns to cricket
Though it might be asking too much to see him return to the Black Caps - O'Brien has suffered greatly from injury since his return to New Zealand - it would be good to see him back bowling and blogging. The man has a big heart and, even at 35, has more to offer yet.
8. Tendulkar hits a hundred 100s
The greatest batsman in test history has been struggling to get past 99 centuries - 51 in tests and 48 in ODIs. His last century was the 111 he scored in an ODI against South Africa in March. His last test century was 146, also against South Africa, in January. Since then, the little master has come tantalisingly close to the magic mark - and his face, when dismissed for 73 against Australia in this week's first test, betrayed a little of the burden he is carrying. He scored 91 against England, 76 and 94 against the West Indies and now 73 against Australia - and still it will not come. Still, the omens look good for Tendulkar to do the business in the current Australian series. We'd certainly like to see it ...
9. Ponting hits another hundred
Speaking of batsmen struggling to make another century, Ricky Ponting will shortly have gone two years since his last test century (209 against Pakistan on January 14, 2010) and made his last ODI ton (104 against India) in March.
His lapse in form has been well-documented, with many calling for him to be dropped from the Australian team. But, other than two reverses against New Zealand (chortle ... ), where he scored only 5 and 16, Ponting has otherwise hit four half-centuries in a row - 62 (against South Africa), 78 (against New Zealand), and now 62 and 60 against India.
Even at 37, Ponting is second only to Tendulkar and Rahul Dravid in test match batting and it is to be hoped he recovers form to hit another hundred (which will get him to 70 in tests and ODIs) and that he scores the runs to set his vast talent ahead of the likes of Dravid and South Africa's Jacques Kallis in the all-time batting lists. He has too much to offer to retire yet.
10. Neil Wagner makes a sparkling NZ debut
Much of the cricket season will be over by the time the lively left-armer Wagner is eligible for the Black Caps but it is to be hoped he gets a decent go this year.
One possibility is the Twenty20 world championships in September though a tour of the West Indies, scheduled for June-August, is expected to be confirmed soon.
The latter would be the most ideal vehicle for Wagner's introduction to international cricket - as the gets the ball through consistently around or over 140km/h - rather than the bash and bluster of T20.
However, the South African-born bowler looks set to become part of a New Zealand bowling stable of rare depth and ability. That's what we'd like to see, anyway.