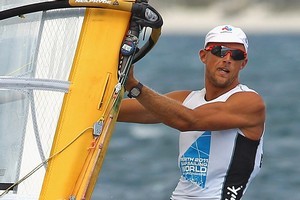 Defending Olympic champion Tom Ashley has missed out on a spot at next year's London Olympics with rival JP Tobin getting selected ahead of him.
Ashley won gold in the RS:X windsurfing class at the Beijing Olympics.
Yachting New Zealand announced the decision today which was always going to be contentious after Tobin finished one spot ahead of Ashley at the World Sailing Championships in Perth on Sunday.
Much selection weight was thought to have been placed on the World Championships, despite the fact Ashley is the defending Olympic champion, and Tobin gained the advantage when he finished in fifth place on Sunday.
It was the third time this year that Tobin edged out Ashely in head-to-head meetings.
The battle between Ashley and Tobin has been raging for years with Ashley denying Tobin a place in the last two Games.
New Zealand has a strong Olympic history in windsurfing with Bruce Kendall winning gold in 1988, followed by his sister Barbara Kendall who also won gold in 1992 along with a silver and a bronze at the following two Games.
The twelve members named by Yachting New Zealand today were the first to be selected in the New Zealand Olympic team - a number which is expected to grow to more than 200 people.
Peter Burling and Blair Tuke (49er), Jo Aleh and Olivia Powrie (women's 470), Andrew Murdoch (laser), Paul Snow Hansen and Jason Saunders (men's 470), Stephanie Hazard, Jenna Hansen and Susannah Pyatt (women's match racing) and Sara Winther (laser radial) were all named as part of the Olympic team.
Olympic Scholarship holders Blair Tuke and Peter Burling (49er) won silver at Perth on the back of a bronze win earlier this year at the Olympic Test event. The duo was delighted to be named to the team.
"We're really growing in confidence and moving steadily up the results table," said Tuke, heading for his first Olympic Games. "Being named to the Olympic team is a huge boost and we're focused on an even better performance at London next year. "

There are nine athletes under 25 years of age in the sailing team and equal mix of male and female.
There are three remaining classes not yet selected - Finn, Star and Women's RS:X. The Star class is yet to qualify an Olympic spot for New Zealand. The process will continue until the completion of class world championships in 2012.
The Olympic sailing course for London 2012 is situated at Weymouth where conditions are expected to favour the New Zealand team.
- HERALD ONLINE