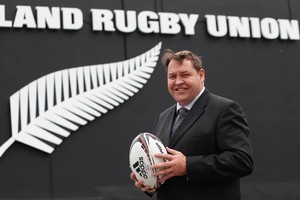 For the last decade Steve Hansen's rugby coaching career has coat-tailed Graham Henry.
That pattern continued yesterday when Hansen was announced as All Blacks coach although his panel of assistants was kept private.
Hansen favours working with an assistant believed to be Ian Foster and using technical support from skills coach Mick Byrne and Brian McLean who coached the national under-19 side, Canterbury and Wellington in the NPC and assisted Samoa in the last World Cup. Those appointments are expected to be ratified next week.
The 52-year-old Hansen did not think he could be any more prepared for the head All Black role after starting in the Canterbury region, taking on a high pressure role with Wales and then working for eight years as an assistant to Henry. It was the best grounding any coach had.
"I don't know that I could have done more to get myself ready," he said.
"I think I have got good technical knowledge, man management skills, pretty good strategic planner.
I've got plenty of experience and reflecting on that experience and using the good, the bad and the ugly to improve myself and the teams I coach. I'm not too bad analytically."
Hansen was interviewed for 3 hours on Thursday by a panel who then recommended him as the only contender to succeed Henry.
Hansen then repeated that presentation and answered questions in front of the full board yesterday before he was publicly unveiled as coach for the next two years.
"The big differences will be that Graham, Wayne [Smith] and Mike Cron won't be there. So straight away we get some subtle differences in personnel that allow the team to be different. But when you sit back and look at the structures and systems we have been using and developing over the last eight years, it would be very foolish to chuck those away."
Fresh ideas would come from members of the new coaching panel because the All Blacks always needed to keep evolving and have an edge.
Hansen's coaching philosophy was that the team always took precedence over individuals. He wanted to create an All Blacks environment where no one wanted to take up overseas deals.
To do that would require a mesh of top-notch test performances, stimulating training ideas and plenty of fun in what was a pressure-laden job.
"You have only got to look at next year's programme, that is a major challenge, not only for the All Blacks but the New Zealand Rugby Union, for the Super 15 coaches and franchises."
Looking after the top 50 players in the country for the next few years would be a huge task and Hansen was happy to accept a two-year deal although he was backing himself to stay longer than that.
Hansen is the third and final member of the coaching trio who co-ordinated the All Blacks' World Cup campaign to be appointed coaching supremo.
Smith had two years at the helm in 2000-01 for 12 wins and five losses while Henry signed on from 2004-11 in which time the All Blacks won 88 tests and only lost 15.
Once the All Blacks annexed the Webb Ellis Cup, Hansen's coaching elevation was undeniable.
He delivered continuity and had Henry's public endorsement.
Until the rest of the coaching group was revealed, Hansen was reluctant to detail his ideas about areas of coaching responsibility.
"I am excited by this. I know it won't change me as a human being. I'm a bloke who keeps my feet firmly on the floor, I have got really good family support and good friends who keep me well grounded and I am just looking forward to it, it will be exciting."
Hansen accepted his public image had taken a hit two years ago when he tangled with the media and "ran a distant second in fact I don't think I was fourth".
He became frustrated and, while he enjoyed the tussle, it was of no benefit to the team so he changed tack. Now, after a few weeks' leave, he was ready for another voyage.
Steve Hansen
* Born May 7, 1959, Dunedin.
* Midfield back, Canterbury and NZ Combined Services.
* Canterbury assistant coach 1997-2000.
* Canterbury coach 2001.
* Assistant NZA coach 2000.
* Crusaders assistant coach 2000-01.
* Wales coach 2002-03.
* All Blacks assistant coach 2004-2011.