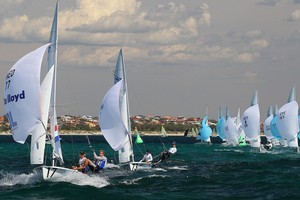 Kiwis Sara Winther (laser radial) and Paul Snow-Hansen with Jason Saunders (470 class) achieved personal bests at the ISAF Sailing World Championships in Western Australia yesterday.
Winter finished eighth in the medal race, while Snow-Hansen and Saunders claimed 10th spot.
To achieve these overall places here off the shores of Fremantle was no small feat, considering the boats that were on the start line are the same ones that will be among the medals at the 2012 Olympic Games.
``Paul and Jason were the youngest and least experienced 470 team in the gold fleet, the top 40 in the world, and so they were boxing outside their weight category,'' Hamish Willcox, coach of Snow-Hansen and Saunders, said.
The pair started well yesterday and sailed fast upwind, but one wrong decision on the final downwind leg pushed them back to a seventh; until that point, they had been in the lead five for the whole race.
Winther also had a great start in the laser radial medal race, showing good speed and was leading the third leg. Unfortunately, she was one of the handful of sailors penalised under rule 42 (pumping) and subsequently was out of the race.
The women's match racing squad of Stephanie Hazard, Jenna Hansen and Susannah Pyatt continued their strong regatta with three wins and only one loss.
Racing in the women's RS:X, radial, men's 470 and finn class finished yesterday, although the men's RS:X, 49er, laser and women's 470 continue today, although stormy weather is predicted.
New Zealand's final standings:
470 Men
8th Gold Fleet: Paul Snow-Hansen and Jason Saunders (13, 10, 12, 16, 18, 14)
16th Silver Fleet: James Turner and Matthew Jones (9, 20, 11, 17, 7)
17th Silver Fleet: Luke Stevenson and Sam Bullock (4, 11, 17, 8, 41DNF)
29th Silver Fleet: Gareth Moore and Ben Goodwin (22, 31, 21, 29, 24)
32nd Silver Fleet: Mike Snow-Hansen and Derek Snow (31, 41DNF, 34, 27, 26)
Laser Radial
10th Gold Fleet: Sara Winther (4, 26, 15, 15, 15, 22)
38th Gold Fleet: Miranda Powrie (45, 8, 32, 39, 48)
4th Silver Fleet: Rachel Basevi (1, 8, 52DNS, 6)
Finn
21st Gold Fleet: Dan Slater (23, 7, 20, 19, 18)
28th Gold Fleet: Matt Coutts (26, 30, 18, 37OCS, 21)
10th Silver Fleet: Nik Burfoot (12, 4, 16, 17, 6)
21st Silver Fleet: Brad Douglas (23, 17, 17, 15, 37DNC)
28th Silver Fleet: Rob Coutts (32, 28 25, 19, 20)
RS:X Women
26th Gold Fleet: Steff Williams (34, 27, 23, 21, 16)
1st Silver Fleet: Natalia Kosinska (1, 2, 9, 2, 1)
7th Silver Fleet: Justina Sellers (4, 17, 3, 7, 5)
Women's Match Racing
Stephanie Hazard, Jenna Hansen, Susannah Pyatt
5 Wins, 3 losses- Stage 2 Round Robin
- APNZ