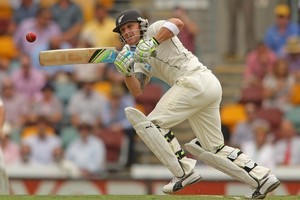 Retain Brendon McCullum as an opener. That is the only conclusion that can be drawn even after the diminutive dasher copped a lot of the flak for the Black Caps' weak showing against a vulnerable Australia in the first test.
First reason: There isn't anyone else. Second reason: In his 12 test digs as an opener since November 2010, he is averaging 48.90 against major test nations. That includes that glorious 225 against India in Hyderabad last year and, if you except that, his average is 31.3. Only ... who on Earth is going to exempt a double test ton against India?
In his 12 test innings at the top of the order, he has scored three 50s or better and that double century in 11 knocks. That is his record against major test-playing nations like Australia and India with minnows like Bangladesh weeded out.
If you take the same measure through his career as a bat down the order, his previous 12 test innings (against India, Australia, Pakistan and Sri Lanka; with minnows excepted) shows him hitting 462 runs at an average of 38.5 (one century, three 50s or better).
Extrapolate that through the last three years and, against major test opposition, McCullum scored 1275 runs (two centuries and eight half centuries), at an average of 33.55 across 38 test innings as a lower order batsman. So, with not much more than a quarter of the innings as an opener as he played down the order in the last three years, McCullum is ahead of the curve.
So he should be. Opening the innings, with its built-in potential to construct a long stay at the crease should lead to higher figures. Batting down the order brings different circumstances to bear; he has often had to do a rescue job.
However, McCullum is yet to win the confidence of the cricketing public as an opener. When things go wrong, as they very messily did in the first test, he is often a scapegoat for criticism that Twenty20 has ruined our approach to test cricket - criticism which is entirely justified but which does not reside exclusively in the psyche of Brendon McCullum.
The Black Caps have talked at length about the need to bat time - but then often employ a batting strategy which, if it doesn't come off, simply gives the opposition more time to grind out a victory.
When McCullum, given rein to play his more free-wheeling style, gets out, the opposition figure they have removed their most dangerous opponent.
Their mental strength grows while New Zealand's seems to curl in the foetal position.
There is only one answer: change the way they are playing as they are doing in Hobart.
Go back to the time-honoured test traditions of defending one's wicket, playing time, not crowd-pleasing shots. Test cricket is a game of chess, not pinball.
Many of the great top order batsmen profited from reining in their talent and expressing themselves through a stubborn defence and two or three run-gathering strokes only; selling their wicket as if it had an umbilical cord attached.
New Zealand top order batsmen, including McCullum, have not embraced this quality much.
It can be argued that true greatness is an opener who can stay and score freely. Maybe so - but McCullum isn't really achieving that either, at least not when compared to someone like the Indian dasher Virender Sehwag.
He has played 92 tests, McCullum 59. Sehwag has 22 test centuries and 30 half centuries or better. McCullum has six and 19. Sehwag has the astonishing test strike rate of 82.12; McCullum 62.15.
So why not change the strategy and technique - even if McCullum is now 30 and approaching old dogs and new tricks territory?