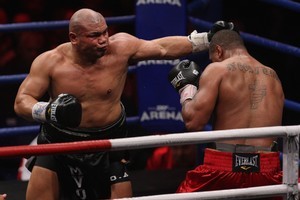 New Zealand National Boxing Federation president Gary McCrystal says he is unlikely to recommend that David Tua has his loss to Monte Barrett overturned - retrieving his World Boxing Organisation titles and his previous world ranking.
"I'd get chopped up into little pieces by lawyers if I recommended the WBO overturn this fight now - about four months later," says McCrystal.
"There are too many uncertainties in what happened; too many ifs and buts; too many holes in the curtains for the bullets to pass through."
That is even after an alleged positive drugs test by Monte Barrett and an admission by Barrett that he may have unknowingly taken a banned substance in a common, over-the-counter supplement.
An angry Tua has been demanding his loss to Barrett be overturned and his WBO Asia-Pacific and Oriental belts be returned. He also wants his previous world ranking to be restored after the test following their fight in August showed traces of the banned drug methylhexamine in Barrett's system.
However, even though Barrett has admitted taking the supplement (1MR), the drug testing procedure could still frustrate Tua.
The problem is that, according to McCrystal, he did not know what drug-testing procedures were to be taken for the Barrett-Tua fight in August.
The WBO backed the main bout as a title fight but the NZNBF licensed the bouts. However, McCrystal says he was never shown the contract by promoters SKY for the main bout - and was introduced on the night as the licenser of the undercard only.
"It was very unusual," he said. "I have never struck that before in years of doing this. Had I seen the contract, I would have seen that there was a requirement for a urine test to be held - but, as I was never shown a copy of the contract, I did not know that was there and couldn't action it."
Instead, said McCrystal, promoters SKY and their match-maker Paul McSharry undertook a test after the fight.
"I do not know why it was done this way," said McCrystal. "There's no point doing it afterwards, as anything could happen after the fight. I could be off popping pills or anything if I was a fighter.
"In a way, that's all kind of redundant now because Monte has admitted on air to taking the supplement - but it's another matter getting things overturned when these matters haven't been carried out as they should have.
"I don't understand why it took so long. It's been nearly four months after the fight; SKY got hold of the results, sat on them and then gave them to camp Tua - what's that about?"
The drugs test went first to a Wellington laboratory and then an Australian testing facility and, on being given a hard copy of the test results, Tua and lawyer Blair Edwards have been seeking to have the result of the bout overturned.
McSharry told the Herald on Sunday: "Gary can say and recommend what he likes but it's got nothing to do with him. He's flying blind. It's up to the WBO.
"The drugs test was taken after the fight because that is what it said in the contract of both fighters. It was done straight away - the same night. There may be reasons why it has taken so long but that's nothing I can talk about."
McCrystal said: "I'd be stupid to overturn that fight on that basis - after that long and because of all the uncertainties. If they'd come through me, well, maybe ... but they took it to other, independent laboratories."
McCrystal says he has been in touch with the WBO who hold the ultimate decision in overturning the result.
McCrystal can make recommendations but said the WBO had already raised several matters with him that suggested no overturning was likely.
"They had concerns with how long it had taken to get a drugs test done; and felt there were too many uncertainties - including some clarity questions around whose samples they were."
McSharry, asked what action he felt the WBO would take, said: "Probably nothing."
World Anti-Doping Agency chief David Howman said: "WADA does not have any jurisdiction over the professional side of boxing. It really comes down to what rules the bout and the test were conducted under. It might well be as David Tua and others are contending - but it still has to have a legal basis."
Tua was quoted as saying: "Monte came to New Zealand telling everyone how hard he had worked to get into the best possible shape for the fight.
"There's only one way to put this behind us. He needs to come back to New Zealand and step into the ring with me again. I'll make sure he needs some drugs by the end of the fight."
Tua may well be right - the best way to get his belts back and his search for a big title fight back on track may be to meet Barrett again, for a third time.