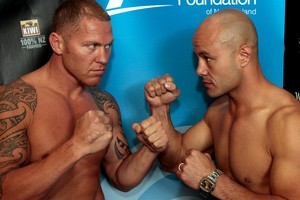 He used a few more words than might have been ideal, but in the end Lance Revill asked the question many have been thinking: what the hell is Shane Cameron doing fighting Monty Betham tomorrow night?
Revill, the former pro, referee and outspoken boxing pundit, challenged the wisdom of Cameron's manager Ken Reinsfeld in pitting his man against Betham over just six two-minute rounds. It smacked, said Revill at the official Fight For Life press conference on Wednesday, of the Cameron camp taking Betham lightly.
While he was at it, Revill may as well have added that there appeared to be little upside for Cameron.
Should the unthinkable happen and he lose to a former league player who, in pro-boxing terms, was a well-regarded novice when he last fought four years ago, Cameron's reputation will be in tatters. But even destroying Betham - as he most certainly should - might tarnish Cameron if he is judged to have given credence to a mismatch.
The charity element of the Fight For Life card could deflect some of that criticism, but the reality is Cameron is a seasoned pro taking on a part-timer.
"I had to ask that question myself," Cameron admitted when quizzed on the wisdom of accepting the bout.
Ultimately, the answer is simple. The short rounds and 16-ounce gloves (pros normally lace up 10 ounces) strongly mitigate against a knock-out, but should Cameron knock out Betham to claim the extra $20,000 stumped up by promoter Dean Lonergan, his purse for the night will be north of $100,000. Not exactly chump change.
"At the end of the day it is a good payday," Reinsfeld said. "This is what Shane does for a living. This is his business. He's still got to pay the bills. Deano dangled a great carrot and he has thrown a bit of mustard on it with the extra 20k."
Even Reinsfeld, though, conceded the fight was a difficult sell on the PR front.
"He can't win - but hey, he's got to get paid."
What, then, is in it for Betham, a man who gave away the fight game after five undefeated bouts in 2007?
The answer, the former Kiwis international says, is the chance to challenge himself in a sporting arena once more. Golf, it seems, just won't cut it for the son of a man who once held Cameron's Commonwealth cruiserweight belt.
Even so, the question must be asked: does he really know what he is doing?
"I think I do," Betham said. "I am challenging myself, but with a real understanding of how tough it is going to be. It is not a completely unknown world. I have been there before."
He has, but Betham concedes he has never been in with a fighter approaching Cameron's calibre. Even with the ring tilted in Betham's favour, the fight projects as such a mismatch that some have questioned whether a contest between two good friends is genuine.
"I guess a few people weren't sure if it was for real - they are now, with the $20,000 KO bonus," said Betham, who admitted his thoughts seldom strayed to how he would spend the money.
"I just want to make sure that Shane doesn't get it. For two reasons - the first is my wife and keeping her happy. Secondly, I don't think Shane deserves $20,000 for knocking out a part-time boxer.
"In sport you've always got a chance. If you prepare to the best of your abilities, you never know what is going to happen on the night."
Cameron, meanwhile, is much more comfortable with the notion of looking like a bully for beating up on Betham than looking like a chump for failing to do so. And, despite Revill's assertion, he isn't taking his opponent lightly.
"Monty's had five professional fights so he knows what he's doing in there," Cameron said.
"He's the toughest man in league and nobody wanted to fight him. So it's fortunate - or maybe unfortunate for him - that he has taken this fight."
And that is the rub. Betham desperately wanted to be on the Fight For Life card but four potential rugby player opponents ultimately decided discretion was the better part of valour.
"Put yourself in their shoes," Lonergan told him.
So he did.
"The gap between Shane and I is a lot bigger than it would have been between me and the rugby boys," he said. "The message is to step up and have a go - don't always go for an exercise where you think there is going to be a favourable outcome."
Betham's parting words are a plea not to put anything in this story that might upset his wife. With a $20,000 bounty riding on his head, the chances are it's far too late for that.