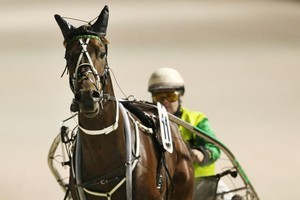 Sheldon Murtha was once the face of New Zealand racing but on Saturday night he will do something he rarely bothers to any more - watch a race live.
He has plenty of motivation, though, having reached the mountaintop of harness racing as an owner with Franco Jamar running in the A$500,000 Miracle Mile at Menangle.
That means he jumps on a plane from Christchurch for Sydney on Saturday night even though he would be just as happy watching from home.
"I don't bother watching races live that often these days but then again, it is not every day you have a horse in the Miracle Mile," says Murtha.
"It is a special race and I'm looking forward to it, even though it will be hard for us to win."
Franco Jamar rates alongside race rival Terror To Love as the most improved pacer in Australasia in the past three months.
Since joining leading Menangle trainer Luke McCarthy in August he has been unbeatable over the mile, breaking 27 seconds for his last 400m every time he wins.
He will have to overcome starting from the outside of the front line on Saturday night but McCarthy is so in love with the 5-year-old he has chosen to partner him over former Interdominion champ Mr Feelgood.
"It is great to have Luke on because he has been good for the horse," says Murtha.
"He has changed a few things, like his shoeing and how much condition he carries and he is a much smother pacer now."
McCarthy took over Franco Jamar at the suggestion of former trainer and co-owner Steve Dolan after he had trained him to finish second at the Breeders Crown in August.
"Steve was great about it and very realistic. We both realised Australia was the place for him to be and I don't think you will see him race much in New Zealand in the future."
As for Murtha's future, he has not written off a return to racing broadcasting, but says that is unlikely under the current Trackside television format.
Murtha was one of the founding hosts of Trackside and is still head and shoulders above any presenter the channel has had in terms of broadcasting skills.
But he lost his passion for the job when racing bosses went with more racing and less atmosphere and behind-the-scenes coverage on their now two television channels.
"It simply got to the stage where the products we were seeing on Trackside were not the vision I had for racing television," says the 46-year-old.
"I think we cater too much for the punter and not enough for the people in the industry or those who see racing as a sport."
Murtha was behind innovations such as bringing North American harness racing into New Zealand and coverage of just one race meeting for an entire afternoon.
"I think those things had real potential for Trackside, especially with two separate channels, but I think we have gone backwards in the way we cover racing."
So will we ever see Murtha back on air, hosting in his relaxed style?
"Maybe, but to be honest if I came back to racing television I think it would be more behind the scenes.
"I have spent 20 years of my life as a broadcaster and I would only have the passion for it again it we did it the right way.
"These days there is so much racing on but with so little interesting stuff in between to make it worth watching I just record the races and watch them after."
And he says that has a hugely negative impact on turnover, which the wall-to-wall racing was supposed to boost.
"I think in the old days people would sit down and watch an entire day's racing on the big days or nights, and then they would bet.
"But now it is too hard to do that, with so many interruptions in the coverage so a lot of people record it and just watch the good races later, which means they aren't betting."
Murtha has discovered a new love in racing, though, being an amateur driver, although lacking in the sort of horsepower Franco Jamar provides.
"Maybe we could bring him back home, change his brands and sneak him into an amateur race so I can drive a winner," he says.
That might become more difficult should he win Saturday's Miracle Mile.
STAR POWER
* Sheldon Murtha is New Zealand's all-time best racing television host.
* But he is disillusioned with the way racing is covered in this country these days.
* On Saturday night his own pacer Franco Jamar contests the Miracle Mile.