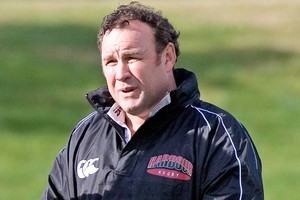 Wayne Pivac has been named head coach of the Auckland ITM Cup team for the next two seasons.

It will be the second time Pivac has held this position, having coached Auckland in 1999 through to 2003. During that time Auckland won three national provincial titles.
Pivac replaces Mark Anscombe who held the position in 2010/11. An assistant coach is yet to be named.

Pivac has been head coach of all three provincial teams in the Blues region - Auckland, North Harbour and Northland, with an international head coaching post for Fiji.

Pivac, who is currently coach of the Auckland sevens team and Pakuranga Premier club side, is thrilled to have secured the role.

"Since 1996, I have been head coach of four very proud rugby unions. I understand the demands and expectations of the team by the people who support and finance them - the key thing is to make sure the players do. Teaching them to reach their maximum potential on and off the field, and how to evolve with the constantly changing state of the game in the professional environment is paramount. It's a big challenge in front of me with tough criteria to meet and I'm looking forward to it," he said.

Auckland Rugby Union CEO Andy Dalton says the change follows a robust review process of Auckland's recent performances and aligns with expansion and structural changes to the union's High Performance Academy.

"Our High Performance Academy has made extraordinary progress in the last couple of years with resounding success across all age-groups.
Our rugby community expects that high standard of results to be reflected in our top team's performance and rightly so. The selection panel and Auckland Rugby Board believe Wayne has the ability to deliver on the high expectations and targets set for Auckland over the next two seasons and will closely monitor that progress."
- HERALD ONLINE