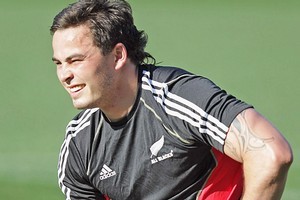 Zac Guildford has reached "rock bottom" following his drunken spree in Rarotonga but he can't remember any of the details of the night in which he is alleged to have assaulted two people in a bar.
Crusaders coach Todd Blackadder spoke to Guildford this morning and said the 22-year-old was "devastated" by the incidents of late Friday night at Trader Jack's bar. It is alleged that Guildford wandered into the bar naked and bleeding and assaulted two people, one of whom, Nick Cox, was celebrating his 60th birthday.
"He's really hurting and ashamed," Blackadder said. "He can't remember anything but he acknowledges that it happened. Just talking to him, he has hit rock bottom. I think for the very first time Zac has acknowledged that he's got an issue, that he can't control his drinking, and it's obviously causing a lot of issues, not only for himself but also his family as well.
"Maybe some good can really come out of the fact that he acknowledges he really needs help. It's a time when we need to support him rather than judge him."
Guildford, who has been in the Crusaders since 2010 after making the switch from the Hurricanes, has kept his drinking under control while based at the Super Rugby franchise under Blackadder, but the latest incident is the most serious for the wing.
He was forced to front the media during the World Cup after a drinking-related incident following the All Blacks' final Tri Nations test in Brisbane, a game in which Guildford played poorly.
He was put on alert following that incident, but Blackadder said that misconduct charge clearly hadn't worked and Guildford needed "clinical" help.
Blackadder said Guildford was still grieving the loss of his father, who died while watching his son play for the New Zealand Under-20 team as they won the final of the world championships against England in Tokyo in 2009.
"There's a real issue here that he's obviously suppressed," said Blackadder. "There's a lot of anger and emotion behind it and it takes an expert to help him. It's really hard to help someone if they don't think they've got a problem."
Blackadder said Guildford wasn't due at the Crusaders until January for pre-season training, but hoped he could travel to Christchurch from his Hawke's Bay base earlier.
"We're going to stand by him. He needs proper help and he needs to be in an environment in which he feels comfortable, and that's playing rugby."
The New Zealand Rugby Football Union said today that Guildford would be supported once the facts around the incident were established. While that means Guildford probably won't be sacked, he could still be fined several thousand dollars or suspended, as he has already been put on notice.

- APNZ