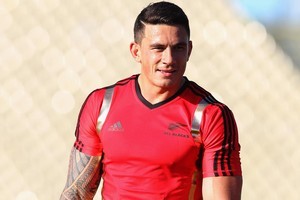 Sonny Bill Williams - your city (Auckland) needs you. Forget about Hamilton, London and all those other magnificent locations.
One quick stint in the city of your upbringing will be a year never to forget and help bring rugby back to life in what should be the sport's New Zealand stronghold.
That's my final plea to the big guy as he sorts through all those offers and makes a decision that will shape the future of cities and nations.
I can reveal exclusively that according to sources close to ... hey, just kidding. Everyone else has sources close to Sonny Bill and I was feeling left out.
If I did have sources close to Sonny Bill, they would - with any luck - be saying that he can't wait to complete the Crazy Gang lineup at the Blues. Just one season of Mathewson to Weepu to Nonu to SBW to Ranger to Ice would do the trick. Pat Lam's "play what's in front of you" theory would get a heck of a good workout with that lot.
The Crazies would absolutely murder some sides and might self- destruct against others - but whatever the various outcomes, the season would be a lot of fun and they might even fill Eden Park should the old monstrosity host the 2012 final.
After that, Sonny Bill could head across town and fire up for the Warriors, something that would get this city absolutely buzzing.
As a final note, if Sonny Bill is thinking of quitting New Zealand because he is fuming at having missed out on the World Cup starting XV, along with being reduced to a final cameo appearance, then he only has himself to blame.
Instead of spending a good part of the rugby season boxing, he should have spent the whole of the rugby season working on his rugby.
Ooops. Shouldn't have said that. Don't want to get him mad. Sorry, Sonny. Humble, grovelling, sincere apologies.
Auckland loves you, and a season with the Blues will be a guaranteed highlight in your life of many adventures.
Johnson's timely absence
The best news about the Kiwis' dismal league test performances against Australia is that the Warriors' rising NRL star Shaun Johnson isn't there.
Australia is reasserting itself as the king of league's little patch after smashing Steve Kearney's strugglers in Newcastle and winning again in Warrington over the weekend.
The Kiwis' tournament form has been superb of late so they are not out of the Four Nations hunt, although the signs are not all that promising save for the fact that Adam Blair - an inspirational figure - is back from suspension. The Kiwis could have done with some Johnson impetus at Warrington, but in the long term New Zealand will benefit from his absence this time.
I winced when Johnson was initially named in the Kiwis squad this month. The brilliant young halfback only cemented his place in the Warriors mid-season, and immediately attracted a lot of attention. The league season is way too long anyway, and the last thing the rookie needed was a marathon stint that could drain him in preparation for his second season in first grade.
Johnson needs to turn up fit and firing for the opening Warriors training sessions, and the Warriors need him fresh from the outset. There is time aplenty to establish an international career, and for all of the importance that test football represents, test matches are few and far between, leaving the health of league in this country falling squarely on the Warriors' shoulders. There is no indication how Warriors coach Brian McClennan looked at Johnson's situation, and as a former Kiwis coach he could hardly encourage a player to turn down his first black jersey. As the club's new boss, he was in a tricky position. But it all worked out for the best.
Luckily - wink, wink, nudge, nudge - Johnson was ruled out by a back complaint. All players finish the year with injuries of some sort, so this may have been a convenience. If so, his withdrawal was a top move.
A bit of Johnson razzle-dazzle off the bench might have done the trick at Warrington, as the Kiwis' comeback fell short. But Johnson will be all the better for a proper off-season, and in the long run, the Kiwis will benefit by having another prudently developed superstar playmaker in the ranks.