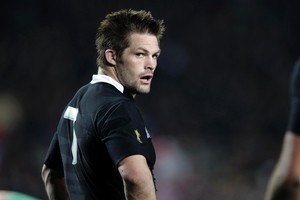 Wynne Gray profiles the glider enthusiast who has piloted the All Blacks to the heights of world rugby
National treasures are kept in museums, looked at, admired and critiqued.
Richard Hugh McCaw is a rugby jewel, an automatic inclusion in a Sports Hall of Fame and in the top bracket of All Black greats. His place is assured. He has been the best All Black in his position for more than 100 tests since his 2001 debut.
The 30-year-old flanker is an uncommon man, a freakish package of intellectual muscle and courage who never knows when he is beaten. It was close on Sunday and he was mighty near his limits.
When they take all the tape off McCaw back in the dressing room, you suspect parts have to be glued back on before he heads off for the captaincy demands in the public arenas.
After this week's nationwide celebrations, McCaw and his buddies need time out.
The skipper has to get his foot looked at once more and needs time to come down from the World Cup high then soar again into the thermals with his gliding passion.
There will be time and space to consider his future. He is contracted for a further four years but he may need to think more about job-sharing through the Super 15 and test programmes, or having a sabbatical.
Every World Cup-winning skipper, except Springbok captain John Smit, quit before the following tournament. Think of them, David Kirk, Nick Farr-Jones, Francois Pienaar, John Eales, Martin Johnson, Smit and now McCaw. He has earned his revered place in All Black history many times over; now he is in a special club of two with Kirk and in an elite two-man club with Mils Muliaina.
All Black No 1014 has created all sorts of records. His career is one of exploration, skills and determination, acknowledged by his family, peers and the 60,000-strong crowd on Sunday at Eden Park and now the rest of the country who witness the World Cup parades.
In private, the All Blacks and their coaching staff embrace their captain, honour him, chip him and give thanks they have been blessed with such a golden player.
McCaw accepts the accolades with the good grace, manners and slight embarrassment that have accompanied him in public throughout his career. He'll shrug his shoulders, look down or rub a paw into his face. His greatness is apparent but he does not like talking about himself. If Graham Henry starts some glowing assessment, McCaw's eyes search for a distant target to focus on.
Not much has changed in the decade since McCaw was revealed as a shock choice for the All Blacks' end-of-year tour and chosen ahead of Josh Kronfeld for the opening test against Ireland. In that week, McCaw showed his reticence for individual acclaim and an ability to give straight answers which have continued throughout his career.
He was chosen as man of the match on debut, recognition for the talent-spotting gifts of coaches John Mitchell and Robbie Deans and a signal for those of us who had seen little of his work in New Zealand.
Since then we have watched and marvelled at the concentrated venom McCaw brings to his game. He recalls his Lansdowne Rd debut with clarity and fervour, it is a favoured memory in an honour-laden career.
"It was the first time you call yourself an All Black and I guess it is the dream coming true," he said. "I watched it not so long ago on TV and the game we played wasn't so flash, but in terms of memories, that was one."
Matches that always remained top of his recollections were those with extra heat riding on them, tests against top-quality opponents where the All Blacks were under the gun or battling controversy. The second test against the Lions in 2005 was like that.
McCaw might have added the 2008 test against the Wallabies when he returned to the fray at Eden Park after injury with his side under the pump after successive losses to the Boks and Wallabies.
He turned in another top game to lead the All Blacks to a significant 39-10 win against the Wallabies.
His attitude has always been the same throughout his career; he always wanted to play to the same high standards in each test. That sporting mantra could be sewn into the lining of McCaw's kitbag.
He is a leader in name and deeds as centre Conrad Smith revealed when he spoke about McCaw, playing in one of the most arduous roles in the side, yet usually first to the training field or getting his side back in the zone for the next match.
"It is admirable and he does it time and time again and has been doing it for 100 tests," Smith said.
How does he do it? At one stage McCaw was trying to juggle his sport and university study but stopped his education as sport bit deeper into his time.
When he stepped back he realised his studies and rugby counter-balanced each other and he needed to maintain that context in his life.
His family were keen aviators and his grandfather had fuelled that passion with stories of his fighter pilot experiences in World War II. McCaw figured gliding would be the perfect therapy for a torrid professional rugby career.
His life was in sync again. Gliding was peaceful, yet demanding; an escape and a challenge.
His stellar rugby career continued. His life is full, time is a precious commodity because everyone wants a piece of McCaw - his coaches, teams, sponsors, the media, the public, his family, friends, wellwishers - and then he has to do his fitness training and mental preparation.
He handles those duties with concentrated discipline. He has learned to manage his time properly and that, he says, allows him to maintain his test rugby standards.
"You have to be organised," he told the Herald recently.
"And I think that helps with the consistency of play because you have to do that each week while you also have to fit in a lot of other things."
Good All Blacks had a choice, McCaw said, to either stand up or chuck it.
We all know what McCaw has done, repeatedly, throughout his decade of duty.
His body might bend from time to time but his mind is unwavering.
Every time he goes into battle he wants to deliver his best; improvement is always his mantra. A World Cup is now the reward for him and his comrades.